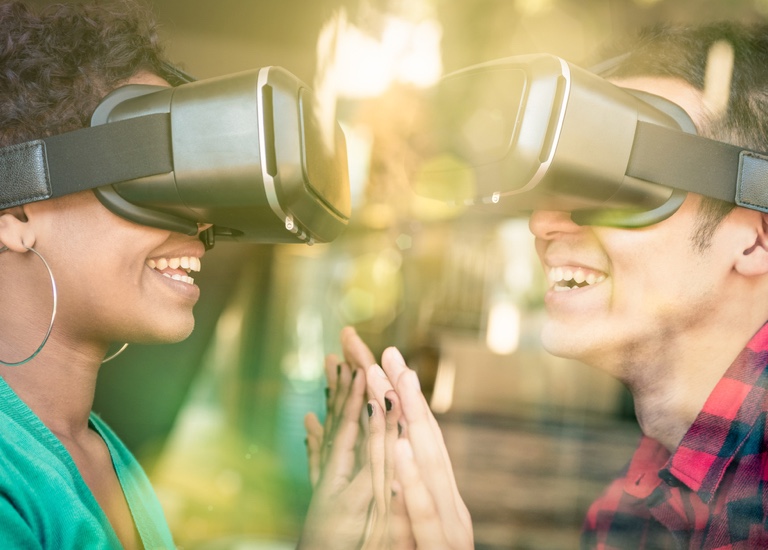 Nine date ideas for 2019
If you've made a resolution to be more adventurous, creative or ethical in your date planning but are stuck for inspiration – read on. Here are nine on-trend ideas for date nights and days in 2019.
1. VR experience
A Virtual Reality experience – where you put on a headset to 'see' and move around in whole alternative world in front of your eyes – makes the most of a new and growing technology. VR can take the form of animation, education, otherwise impossible adventures and voyages, games, art installations and much more. Look out for VR in museums, bringing the past into the present, as well as Virtual Reality cafes and pop-ups in your area. You could enjoy a date – and an adventure in space or history – that'll give you something to talk about afterwards.
2. Geocaching treasure hunt
If you'd prefer to get outdoors and find out if you collaborate well with your date, try geocaching. A kind of digital treasure hunt, geocaching uses GPS technology to guide you to hidden 'caches' – small containers with trinkets and a log book – using your mobile GPS to navigate coordinates. It's simple to start, too. Just download a free app for your phone and set off with your date on a hunt for the unexpected. Don't forget to check the weather first!
3. Fly a drone
Previous generations flew kites, now we can fly drones too. These amazing devices are remote controlled flying machines, and range from the super expensive to the affordable. So if you fancy learning the controls and taking some breathtaking aerial photos (don't worry – you stay on the ground!) to keep as a memento of your day, this is a high tech way to surprise your date and get some fresh air. Just make sure you follow the rules of flight and keep away from airports!
4. Short films
A movie and meal is a traditional date night and can seem a little daunting if you're just getting to know someone. But if you'd like to make it a little different, opt for a short film or two. The shorter running time gives you more chance to chat afterwards and doesn't tie you to a full two or three-hour slot – perfect if it's the first meet. Plus you may just discover an exciting new piece of independent cinema in the process, and as it's usually indie cinemas or alternative venues that show short films – often with a nice cafe on site – you might get to explore a new place too. Lots of potential conversation starters.
5. Vegan dining
Whatever your usual diet, why not have an ethical, epicurean adventure and go animal-free? Try one of the very many vegan eateries popping up all around and #Veganuary (going vegan for the first month of the year) is a great time to start! Discover new flavours – or introduce your date to a favourite vegan haunt – and share a meal with plenty of nutritious plant-based goodness. With vegan cakes, pizzas, burgers and even chicken alternatives becoming popular, you might not even notice the difference!
6. Mocktail making
If you're doing 'dry January' or are teetotal you can still enjoy the creativity and fun in cocktail making by going for alcohol-free 'mocktail' options. Sign up for a mixology class, or buy in a bunch of ingredients if you're comfortable being at home together, and have a blast mixing weird and wonderful concoctions using your favourite fruity flavours. Inventing a cocktail dedicated to your date also makes for a personal, romantic gesture, if you're feeling daring!
7. Upcycling projects
Want a creative date but strapped for cash? If you don't mind getting your hands a little dirty, look into giving your belongings a new lease of life and investigate 'upcycling'. Revitalise old unwanted furniture, clothes and random objects by upcycling them with a re-paint, new upholstery, or an artisan design technique. See if there's a local upcycling hub to visit together or look at instruction videos online and make your project as simple or elaborate as you like. It's another great way to share ideas and work together, learning about your date's potential DIY and art skills along the way – and get a home makeover too.
8. Foraging
If a standard stroll in the woods seems a little too pedestrian, join a guided forage. Foraging takes you into the countryside – or even into unexpected areas of plant life in urban areas – to discover what nature has to offer. Not only will you learn about medicinal plants on your doorstep, but you'll get the sense of achievement that comes with finding your own food, along with fresh air and exercise. Joining a group also means you won't be alone with a stranger if this is your first date – and if you do discover anything that looks edible, check with your guide before risking it!
9. Silent disco
Dance like no one's watching with a silent disco. Instead of music blasting across the room, you control the volume as the music is piped directly into headphones each dancer is given, meaning when you want a break or to chat to your date, you can just take them off for some peace. Whether dancing through the streets or in a fun venue (museums and zoos have been known to host silent discos in the evenings), you can cast off your inhibitions as you boogie along with others, with the beats in your headphones. It makes for a silly, funny and joyful date – although won't be for everyone, especially if you're feeling shy, but it's a fun way to join in without feeling too visible.
It's a New Year and a new start. January is a great time to get out meeting people. So whether you utilise the latest tech, take in the great outdoors, or do something to promote sustainability, have a blessed time dating in 2019.
Get weekly blog articles direct to your email inbox