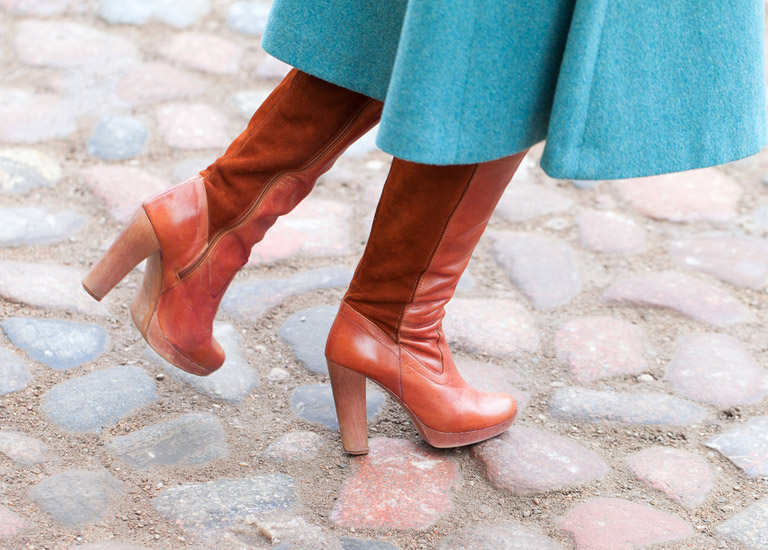 10 dos and don'ts for women at singles events
Last month, I spelled out the mistakes guys make at singles events. But we ladies often do ourselves no favours, either. We arrive in packs, spend the evening chatting to each other, shy away from making eye contact with the men, reject the ice-breaker games as naff – and then head home complaining that nobody spoke to us!
According to the guys on my Facebook page, it can take enormous courage to approach a woman. If a man fears a chilly reception, or has to run the gauntlet of her pals, he'll likely chicken out. What a tragedy to miss out on meeting a lovely (perhaps slightly shy) Christian man because we made it too intimidating to say hello. So gals, here's how to make the most of singles events…
1. Go solo. If you arrive at an event with friends, split into pairs – or even better, go it alone. You might gain confidence from being in a group, but it makes it much harder for men to approach. 'You might as well build a thick wall around yourself,' said one Facebooker, 'because it says to men: KEEP AWAY.' 
2. Join in the games. Throw yourself into any ice-breakers, however silly they seem. The game isn't the point – it just gives people an excuse to approach each other. Plus, a bit of silliness helps people relax and overcome their inhibitions.
3. Be outward-looking. Practise looking out into the room, making eye contact and smiling – if you want to be approached, look approachable! 'Be inviting, and take a step or two towards the guys yourselves,' advised one gent. Don't fiddle with your phone to look busy (one of my bad habits) – it's fine to just people-watch. Present yourself as the open, friendly person you are, and chaps are more likely to introduce themselves.
4. Keep an open mind. Be prepared to chat to anyone, regardless of initial impressions. Not only should we, as Christians, be kind and friendly to whoever crosses our path – but many a woman has discovered a hidden gem this way. You never know who you'll click with, even if they're not your usual 'type'. 'At a recent speed dating event, one lady hadn't ticked anybody,' one Facebook friend reported. 'She could at least have given herself a chance to get to know some guys.' 
5. Be ready for the chat. Worried about awkward moments? Go prepared with a few conversation starters. Open-ended questions work best, such as, 'What kind of church do you go to?' or 'What do you like best about your job?' They'll keep the conversation moving and tell you about the guy and his values.  
6. Know how to make an elegant exit. If a conversation goes on too long for comfort, simply say, 'Thank you for chatting – I really ought to mingle,' and politely move on. If that doesn't work, a trip to the loo will force a break in the conversation. He probably doesn't realise he's outstayed his welcome. (On the other hand, if you feel threatened or pressured, speak to the event organiser.)
7. Reverse the roles. It's the 21st century – women can do the approaching, too! Spotted someone you'd like to meet? He'll likely be impressed if you have the guts to walk up and introduce yourself. 'It takes the pressure off,' said one chap. 'Blokes don't know how to start a conversation – we're useless like that!' If that's too scary, try to catch his eye and smile as an 'invitation' to come over. 
8. Go prepared. Get some business-style cards printed to avoid scrabbling for scraps of paper when you want to swap details – you can get them cheaply or free online. For the sake of privacy and safety, don't include much information – mine bore just my name and email address. You might even want to set up an email address without your surname for dating purposes.
9. Stay on the move. It's tempting to plant yourself at a table for the evening, but if you circulate slowly around the venue, you'll end up talking to more people. Imagine you're the hostess and plan to spend a few minutes talking to each 'guest'. Don't be afraid to approach a group of strangers and say, 'I feel like a lemon standing on my own – can I join you?' I did it many times, and was always welcomed into the conversation.
10. Chill out. If you take it all too seriously, you won't enjoy chatting to people – and they won't enjoy chatting to you! The object isn't to leave the event with an engagement ring on your finger – it's simply to have a nice evening and meet some new people. So forget the agenda, relax and have fun.
FOR A BONUS POINT: Take a male friend. Attracting men to singles events can be a challenge. Ladies, get into the habit of inviting your brothers or single male friends to join you, and everyone will benefit!
Men, what advice would you add for women at singles events? Share your wisdom and help the ladies shine! 
Get weekly blog articles direct to your email inbox