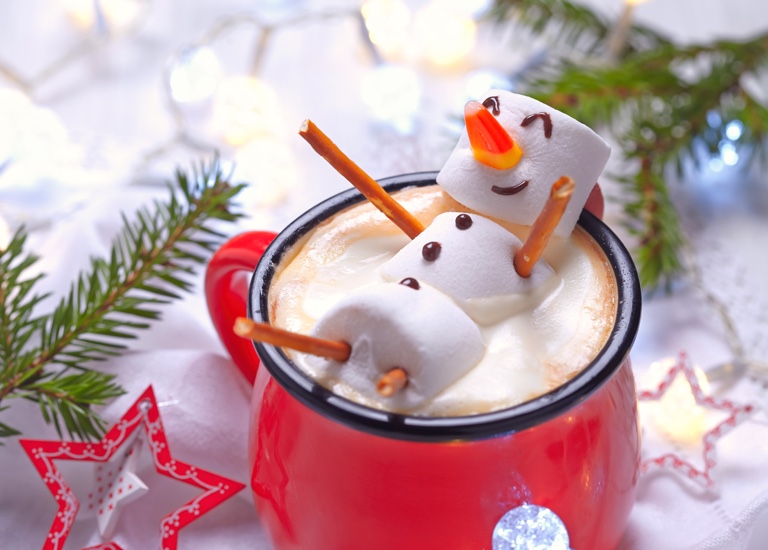 6 reasons why it's great to be single at Christmas
Christmas is rushing towards us at high speed, and this is a time of year when it can feel particularly tough to be single. While other people are (we imagine) revelling in the joys of family festivities and cosy romantic moments (not helped by those Christmas movies – thanks, Love, Actually), singles may be feeling extra lonely and sad that life hasn't (yet) worked out how they'd hoped.
But while you may be wishing you had a partner for Christmas, there are also many positives to being solo during this season. Here are six reasons why you can celebrate being single at Christmas…
1. You can enjoy quality time with your family
Married couples often have the dilemma of whose parents to spend Christmas with. If they live within striking distance, they may try to see both families on the big day, which can be a logistical challenge (and an emotional minefield – whose Christmas lunch do you reject?). Otherwise, they may settle for alternate years (further complicated if parents are divorced with new partners), or spend the holiday driving long distances to please everyone. Someone always misses out, which can be particularly distressing as parents get older. No such concerns for you – you can enjoy uninterrupted time with your loved ones, without guilt or compromise. Hurrah!
2. You side-step the gift-buying madness
Buying presents can be a delicate business, fraught with potential blunders, especially during the early stages of a relationship. How much should I spend? Are their expectations the same as mine? Do they expect something romantic or meaningful? What if I get it wrong? Oh, the pressure! When you're single, not only do you save yourself a packet on gifts, you also avoid the stress of trying to choose the right thing. Phew!
3. You avoid festive relationship stress
Lawyers don't call the first Monday of January 'Divorce Day' for nothing. For an occasion that's meant to bring joy and light into our lives, Christmas can be surprisingly stressful, and this can take its toll on a relationship, especially if it's already struggling. Arguments, conflicts and disappointments are intensified by the pressure cooker of the festive season and, for some couples, it's enough to trigger the end of the relationship. If you're solo, you can enjoy all the delights the holiday has to offer, without the risk of emotional fallout.
4. It's party time!
This is a super-sociable time of year… parties, work dos, get-togethers with friends – and you're free to enjoy all (or none) of them. You can go to the events you choose, decline the ones you don't fancy, and leave when you're ready – and not before! It's a great time to meet new people and make friends – you might even encounter someone interesting and have a date to look forward to in the new year. Party on!
5. You don't have to tolerate tricky in-laws
Even people blessed with lovely in-laws often feel the pressure to get everything right for Christmas. This might mean trying to be the perfect host and produce a Christmas spread to please everyone; sweating over choosing the right gifts for in-laws who have everything; smiling politely through small talk, even if they reveal opinions that make you shudder; or being on your best behaviour all week instead of lounging around in your pyjamas, eating Quality Street and blaming your wind on the dog. Christmas with the in-laws can be a delight, but it can also be dreary or something to be endured. No such concerns for us singletons!
6. The world is your oyster
Want to spend Christmas volunteering at a homeless shelter or food bank? Can't wait to be back in your childhood bedroom, unpacking your stocking in your PJs (even though you're 35)? Want to spend it reading on a beach in Thailand with a cocktail in your hand? Prefer to hide out from the world and spend time in peaceful contemplation of the real meaning of Christmas? Being single often means you have more freedom to do what you want at Christmas, even if what you want to do is absolutely nothing. You have no one to please but yourself.
Once all the festive goodies have been consumed and the decorations taken down, you can start thinking again about finding love. January is the busiest time of year on dating websites, so why not use your time off to brush up your profile and get ready to start contacting people? Start the new year raring to go, and ready to meet someone special!
Get weekly blog articles direct to your email inbox