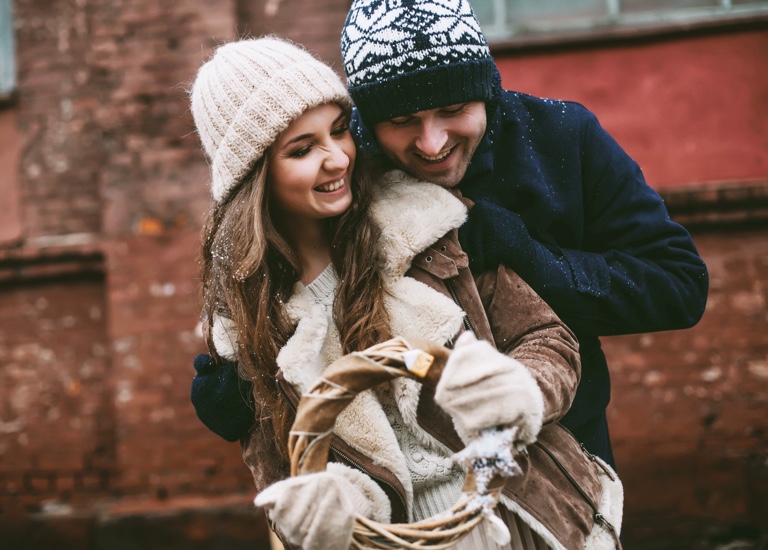 Eco-friendly dates for the festive season
The festive season can be a period of increased consumerism, but there are plenty of climate-positive and sustainable ways you can enjoy it too. It's widely considered to be a romantic time of year, ideal for meeting new people and maybe even finding a potential spouse. Here are some environmentally friendly ideas to inspire your dates this Christmas and New Year.
Browse ethical Christmas craft fairs
If time is in short supply, you could combine a spot of light festive shopping with a date. More and more ethical craft fairs are popping up – especially at this time of year – offering sustainable gifts and handmade plastic-free decorations. If it goes well, you could buy your date a little something at the end of the night. Or if you've been seeing each other for a while, it's an ideal way to work out what sort of things they'd like to find under the tree on Christmas morning.
Enjoy an outdoor picnic under the stars
Christmas lights are beautiful, but nothing compares to nature. Pack a hamper with a flask, hot water bottles, tasty treats in re-usable containers and cosy blankets, then head to a park or a beach. A star and moonlit picnic checking out the constellations is a special way to spend a winter's evening with someone you've been dating some time. (Do bear in mind that your first few dates at least should always take place in relatively busy public areas and venues and be sure to wrap up warmly!)
Take part in a beach or park clean up
Unlike an after-dark picnic, this is an outdoor activity that's suitable for a first or early date. Look out for notices of the park and beach clean-ups happening en-masse near you. Not only is it a wonderful way to support nature, but it's also team-building and sociable. Groups of people gather for these and they happen during the day, so you won't be alone. But you will be able to chat while you work – much less awkward than meeting over coffee and more productive.
Visit an organic winery
If you fancy going for a Yuletide tipple with your date, check out local wineries. Those living in or near the countryside probably won't have far to go. Or if you're a city-dweller you'll likely have a choice of great whisky or gin distilleries on the doorstep. Buying locally supports independent retailers, cuts down on the products' carbon footprint and as many wineries offer refill services, they reduce glass waste. You'll get to try before you buy and learn together about how it's made, giving you both plenty to chat about – ideal for a first date.
Cook from a veg box or local market
If you're planning to cook for a date, consider shopping at a festive farmer's market for your ingredients – maybe even shop together. If it's a first date, enjoy some ready-made Christmas-themed street food on site. Or if cooking at home and unable to get to a market, you could order a locally sourced plastic-free veg box. These have a low carbon footprint, recyclable packaging and often contain unusual, colourful items to inspire some adventurous dishes.
It's time to re-evaluate our lifestyles in light of the current climate emergency, including the ways in which we date, consume and socialise. But as awareness grows, so do opportunities. Try out greener ways of dating (and living) and enjoy the magic of Christmas, without the waste.
Get weekly blog articles direct to your email inbox