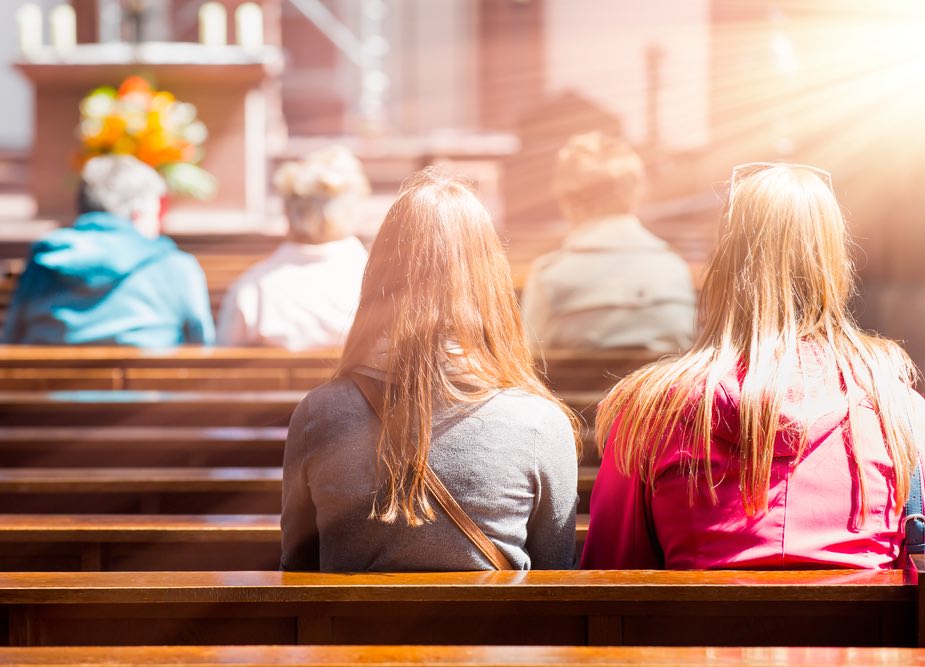 How to help your church become more single friendly
If you've been single in church for a while, you may have noticed that a lot of churches don't really know what to do with single people. Perhaps you've struggled to relate to a sermon, or sat patiently through a 10 minute anecdote about the preacher's happy family. Maybe you've started attending a new church and no one has come to say hello. Maybe you're just wondering where you fit in. It's no new fact that many churches tend to focus on couples and families, and single people report feeling overlooked, misunderstood and even unwelcome. The good news is that change is possible – and it can start with us! As an individual, here are a few things you can do to help your church become more single friendly, better welcome and include single people.
Look out for people on their own
People attend church on their own for lots of reasons. It can be a bit daunting to show up by yourself for the first time, so if you've been coming for a while, be that friendly face. Look out for people standing by themselves at coffee time. Invite someone to sit with you, and introduce them to others.
If you share the Peace or there's a time of informal chat in your services, try and greet someone outside of your close friendship group first. Give the welcome that you'd like to receive.
Organise a social after the service
One of the best ways to build community and make new friends is to have a regular social opportunity after the service. This can be very informal – going for drinks, having lunch together or going for a walk. If your church doesn't already offer something like this – why not start something yourself?
Begin by finding one or two others who are interested, spread the word and enjoy each other's company until it grows. Ask a church leader if you can advertise it in the service, so that any newcomers can join.
Work out what your gifts are and use them
It's important for church leadership to include all types of people and role models. Having an all-married leadership can suggest that you have to "graduate" into marriage in order to lead…which is completely untrue!
If your church is lacking single leaders for Bible study groups, prayers, community outreach etc, could that person be you? Using our unique gifts to serve God and others can give greater meaning and purpose to our lives – and can be an encouragement to others too. If you're interested in exploring this, arrange a conversation with someone in leadership. Also tell a close friend so they can encourage and pray with you.
Celebrate life events
At my old church, when a couple got engaged the whole church would applaud and pray for them. While it was great to celebrate their happy news, it often made me feel like a failure because I wasn't anywhere near that "milestone".
When churches focus on celebrations related to marriage and children, it can sometimes make single or childless people feel undervalued or that their lives aren't worth celebrating. So could you build a culture where you celebrate together for other things too? Make a big deal of people's birthdays, new jobs, qualifications, retirement. If you're a parent, you could do something on Mothers and Fathers Day to appreciate those who have been a caring presence in your kids' lives. Make everyone feel valued and encouraged.
Be family to each other
The Bible tells us that when we become a Christian we are adopted into a new spiritual family. The Early Church lived in community and radically supported and embraced one another.
Does your church today feel like a spiritual family? Think about how you could better love and support those in your community. Do you know any single parents who would welcome help? Could you befriend a person or family who is facing illness, bereavement, or help someone to move house? Perhaps you have a space to host people, and could be more intentional about building relationships with others.
Lovingly challenge unhelpful comments
If you're a single Christian, you've probably received an unhelpful comment or two about your single status. Maybe an unsolicited offer to pray for your love life, or unwelcome matchmaking attempts!
The first thing to remember is these often come from a place of ignorance. Perhaps this person has never experienced long-term singleness – or grew up in a culture with certain pressures around family. Perhaps they genuinely care, but don't know how to express that in a helpful way. With this in mind, it's good to lovingly challenge people on their language around singleness.
Explain to them why you feel uncomfortable, or why their comments are unhelpful or even untrue. Help them understand more about what it's like to be single in church. Invite them into a positive conversation that can educate and shift their perspective.
Speak to your church leader
This is probably the most daunting action on this list, but it's also the most effective one. Often church leaders aren't intentionally leaving single people out – the thought has probably just never crossed their mind. Ask to have a chat with an appropriate leader, express the ways in which you or others have struggle with church and why.
Remind them how many people in society are single – and that this number is growing. And try to offer some simple practical solutions. There are lots of ideas on the Single Friendly Church website, including an audit tool that's being used in churches worldwide.
In most cases, it's one or two passionate single people who initiate a church's journey to becoming more single friendly. Whilst it helps when the church leadership gets on board, small actions from individuals do make a big difference.
For more ideas and resources visit singlefriendlychurch.com
Get weekly blog articles direct to your email inbox