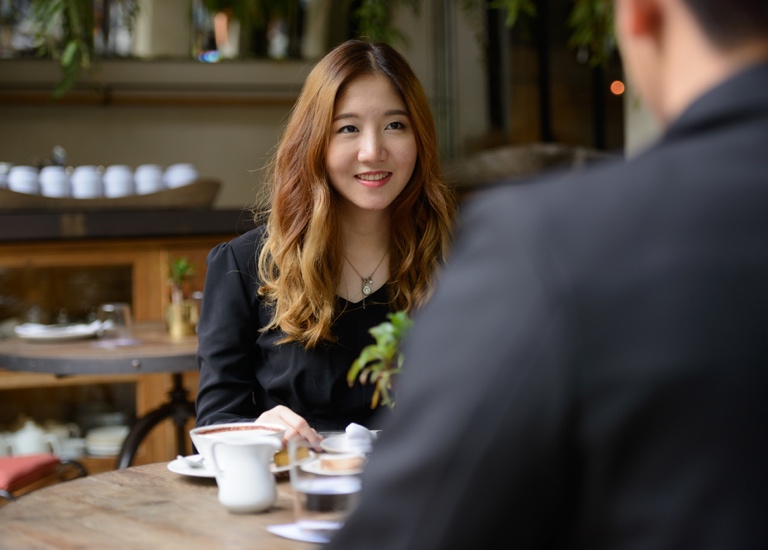 Creative first date questions and conversation starters
All of us have been tongue-tied at one time or another – especially on a first date. For some, it can be a common occurrence. Any environment or situation that brings on nerves will increase the likelihood you'll struggle to think on your feet. The answer is to not put too much pressure on yourself to come up with on-the-spot chat. Instead, using prepared conversation starters avoids awkward silences, encourages you to find out a little about each other and helps you both relax and ease into the date. You can have a few topics lined up, so you can focus on enjoying yourself. So, what are the best things to say and ask at the first meeting?
Stay breezy
For a first date, subjects should be relatively light-hearted and non-confrontational. This isn't the time to get on your soapbox or release a tirade of strong political opinions. The chat should remain open, inclusive and friendly while revealing your personality and general interests.
Chat up lines can meet with mixed responses. And this really depends on the immediate chemistry between you and your date, whether you have a shared sense of humour, what you say and how it's delivered. As such, a good rule is, if in doubt, don't say it.
Be considerate
Always be appropriate and inoffensive, even if that means staying a little 'safer' with your conversation than you may be usually. Speaking to strangers requires a degree more delicacy, than with your mates or when in a relationship. It can be daunting, meeting for the first time, so be careful not to make them feel uncomfortable.
If you've been chatting online, you will have already gathered some information about your date. This is great, as it gives you a starting point and means you can be more informed with your questions. But there can be a downside. It's flattering when someone listens to and digests the things you say. If you reference something they said in a message when chatting in person, it'll help them feel valued. If you've clearly forgotten nearly everything and seem to be getting them confused with one or many other people you've been chatting to, it'll be offputting. Avoid this by re-reading your message thread before you head out for the date.
Questions to ask
If you're stuck for inspiration, here are some good options to try. Memorise a few and you should be able to draw out more conversation from their responses – and you can volunteer your own answers once they talked through theirs.
You mentioned you do (name a hobby, interest, or their job) How did you get into that?
Which local restaurants and bars are your favourites?
Where do you spend most of your time – other than at home and work?
What's been the best thing that's happened to you this week?
Are you working on anything exciting at the moment – for your job or as a hobby?
Tell me about your friends – who are you closest to?
Are you reading any good books at the moment?
What's your idea of an adventure?
What would you do with your life if you didn't have to earn money and knew you couldn't fail?
Have you ever joined a Meetup Group?
What's the most expensive thing you've ever bought?
What's does a typical day look like for you?
What drew you to your church?
Questions should be easy enough to answer without having to pause and think for ages – so avoid anything obscure. But equally, asking the well-worn ones like 'what do you do for a living' can become tedious quickly. A fantastic phrase to use is 'tell me more about that'. This invites them to expand on something specific, without continually firing questions. You can use it as a response to something they've said in person, or to raise a topic they'd already mentioned online.
Be creative! Be aware that others may read this article and use the same questions, so make up some of your own along the same lines. Just be sure to have a few up your sleeve ahead of the meet. You'll look and feel more confident. Plus you'll find out lots of things about your date, that you might not have otherwise, and you're more likely to have fun!
Get weekly blog articles direct to your email inbox