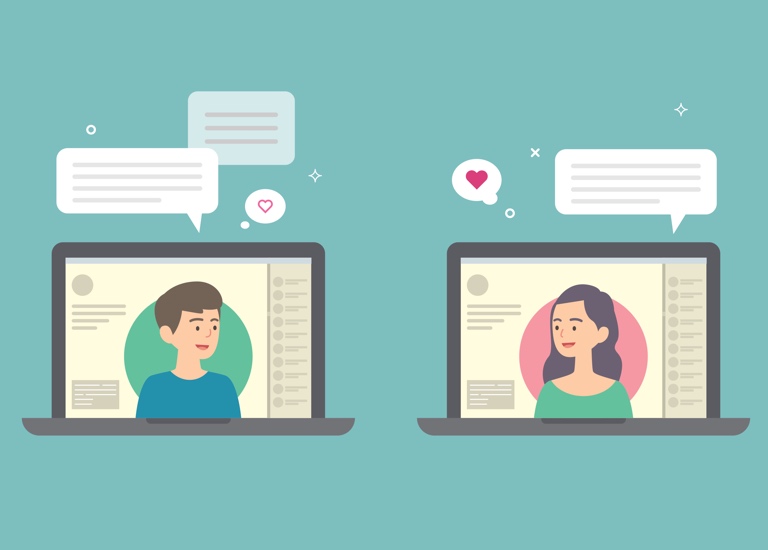 Dating & the coronavirus – our advice
With news of the coronavirus (COVID-19) on our screens every day, we understand this is a worrying and uncertain time, and we want all our members to stay safe and well, and to continue to find connection. There's a lot of differing advice about how to respond, and with the situation changing daily, it can be tricky to know what to do. Our usual advice is to meet up within two weeks of making contact online, but that might not feel like the right thing at the moment, wherever you are.
Our tips for dating at a distance – where you might not live close enough to meet regularly – could also apply when 'social distancing' – take a look here.
You can also be imaginative with the alternatives to face-to-face meetings, whether first dates or longer term:
Use video chat like Skype or FaceTime. It can be useful to see if there's any connection before meeting in person for the first time in normal circumstances,

and it's also one way to stay connected once you get to know each other

.
Why not have a virtual 'drink' or 'meal' over video chat? Arrange a time when you both have some privacy at home, so you can relax and focus. Use our creative conversation starters to get the conversation flowing.
You could watch a movie 'together' by arranging a time and hitting 'play' at the same time. If you're the kind of person who likes to discuss the film throughout, you could stay on the phone (using headphones). Or just share your thoughts afterwards.
If you're into gaming, you could set up a multiplayer online game. If you don't have a games console, you can play games for free on your computer. Use it as an opportunity to try something new.
And of course, there's always the phone, instant messaging apps and social media.
If you're a full subscriber, you can also see which other members are online now. Find someone new to strike up a conversation with.
If you do decide to meet in person, don't be embarrassed to take the necessary precautions:
Set expectations first. Agree not to shake hands/touch before you meet.
Wash your hands: before, during the date and when you get home.
Avoid touching your face (and the other persons face!).
If you need to cough or sneeze, use the crook of your elbow if you can't reach a tissue in time.
Take a small bottle of hand sanitizer with you to use if you can't wash your hands straight away.
Ideally meet in a less crowded public place (a cafe out of town, rather than a city-centre bar) and maintain some social distance while out and about.
Avoid travelling by public transport if you can (consider cycling!).
The situation is changing all the time, and we recommend following the most recent government advice. It's also worth looking at the World Health Organisation website.
Remember the usual safety precautions too:
Don't accept a lift or meet at the home of someone you don't know even if they say it's to avoid crowds. Meet in public unless you've got to know someone well. Let someone know where you're going and when you plan to be back.
Continue to message and make connections as much as you feel comfortable, but remember the advice on avoiding fraudsters online on any dating or social site. Never send money to anyone and be aware of stories that sound urgent, particularly now about 'medical bills' or the need to pay for a virus test. If you become aware of anyone behaving like this on Christian Connection, please notify us immediately.
Please read our blog article on safe dating here and our general safety advice here.
And keep being honest! If you're not feeling like meeting up because you don't feel a connection, let them know. Don't joke about having symptoms as a reason for not meeting. Likewise, if you do feel ill, don't be brave and push ahead with a meet-up. You can always reschedule or chat online.
When things are uncertain, it can be unsettling and even lonely at times, so be kind to those that you interact with. People may be concerned about the rapidly changing news, their family members and friends, their work situation or their own health. Praying for and with each other when you get to know each other better, and being supportive even in casual chat can make a real difference.
---
We've put together an article with the latest information and advice on staying safe and connected during this time.
Get weekly blog articles direct to your email inbox