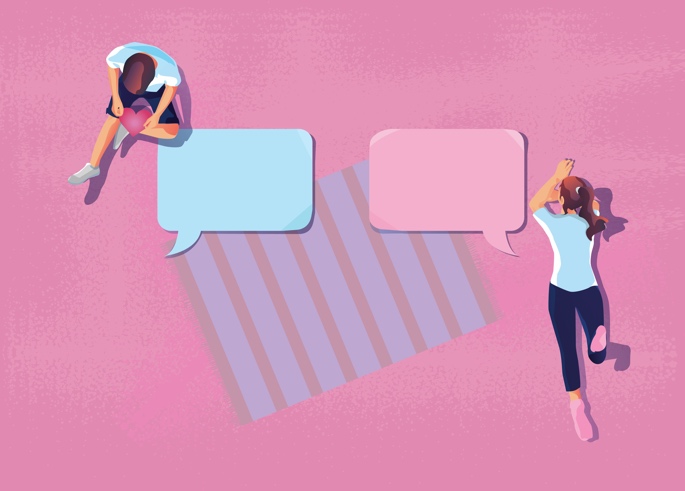 Better Conversations – 6 simple dating icebreakers
Speaking for the first time can be an anxious experience. No matter how much you're looking forward to finally hearing someone's voice – whether on the phone, a video call or face to face across a café table – it's easy to feel overwhelmed or nervous. Having some simple dating icebreakers can really help. As part of Christian Connection's #BetterDating resources, we're starting the #BetterConversations week with some easy questions to launch into that first chat without nerves.
Ask one or more of these simple dating icebreakers to move the conversation along and start getting to know each other…
How did you choose the photos on your profile?
It might be a little awkward to mention how you first connected, but your dating profile was the first window into your world for the person you're now chatting to. Something there made you stand out – and vice versa. Use it as a springboard to find out more.
Digging into what you noticed focuses on one of the few things you have in common at that time, and offers a great insight into how you see yourself and approach the world.
Look at your own photos. Did you go for a professional portrait, ask a friend to snap a few pics on their phone or scroll back through 10 years of holidays to find one where the light fell perfectly?
Who are the people in your group shot? Lifelong friends, choir buddies, volunteering team mates or fellow fans of your favourite film (if you're dressed in a Star Wars outfit, that might be a clue).
If you look at your photos and decide they could do with a refresh (especially if they are 10 years old! The best advice is to have recent pics), think about what would make a good conversation starter and show you in your best light.
Was there any part of your dating profile you hesitated about filling in?
Christian Connection profiles give you the opportunity to say as much or as little as you like about yourself. From the basics of your name, age and what you're looking for to how you live out your faith, your best virtue and what inspires you.
It can feel exposing to go into details about who you are when you don't know who will read it, and you may prefer to talk face to face about deeper or more personal things. That's what this question will help to draw out.
It's unlikely you felt wary about mentioning whether you have pets or like roller discos, but you might have paused and decided to wait before giving a detailed history of your past, any health issues you have, dietary requirements or why you're not following the career path you once dreamed of.
Now you're in conversation it's a good time to start to draw out the person behind the profile. Sensitively asking about areas that might have caused vulnerability can start to build a connection.
What has made you laugh this week?
You may not have had the greatest week of your life – world events or personal ones might have been hard going – but you're now in a conversation with someone new and you want to focus on something positive.
Think of something that has raised a smile, if not made you laugh out loud. A cute, fluffy dog chasing its tail in the park, a funny meme sent by a friend, your favourite podcast or an episode of an old sitcom that always changes your mood.
Bringing it into the present also opens the door for the conversation to go in a different direction if that's more authentic: "It's actually been a tough week".
Opening up with honesty and vulnerability can change your connection in an instant. Whether you end up laughing together or having a deeper conversation, it's sure to break the ice.

If you were an animal what would you be?
There are so many possibilities with this simple but fun question! Maybe you see yourself as a quirky meercat, part of a loyal community and always alert to what's around you. Perhaps you're more like a dog – loyal, friendly, happy if you can eat and nap.
Or maybe it's an eagle you relate to – sharp eyed and taking a higher view on the world around you. You could be a peacock! Bright, eye-catching, and always making a statement when you enter a room.
While your answer could be light hearted, it's also a low pressure way to say something about yourself and to learn about the characteristics your date recognises in themselves.
This is one dating icebreaker that is bound to have a memorable answer – and might lead to a second date at the zoo!
What's your dream holiday?
Take the nervousness out of the moment by travelling somewhere new. Even though your ideal holiday may be out of reach for now, it's free to dream!
Let your mind wander through that little Tuscan village as the sun goes down, or breathe in the freshest air on the top of a Swiss mountain, or feel the adrenaline as you mountain bike down a forest path.
If you've already been on your perfect trip, relive it with enthusiasm! If it's still a hope for the future, talk about why and how you'd spend the time. Learning to cook at a specialist school, hot air ballooning or
It's a great opportunity to go beyond the cliches and talk about what really makes you tick. If deep down you'd spend two weeks curled up re-reading classic literature or catching up on box sets rather than bungee jumping, say so!
What film have you watched most through your life?
Depending on age and background your cinema experiences may be very different to the person you're chatting with, but almost everyone has a movie they love to return to. It's a popular part of the Christian Connection profile, and digging into the detail when you chat can be enlightening.
Maybe you love thrillers and action movies, but somehow end up returning to that slapstick comedy you first saw when you were a teenager. Or you spend your spare time immersed in documentaries but secretly love a soppy rom com.
There might be a classic Hollywood black and white film or technicolour musical you can't resist when you have a quiet weekend, or a rare foreign film whose cinematography always captivates you.
It's a simple but fun way to get the conversation started, and talk about something you enjoy.
What are your favourite dating icebreaker questions?
Get weekly blog articles direct to your email inbox