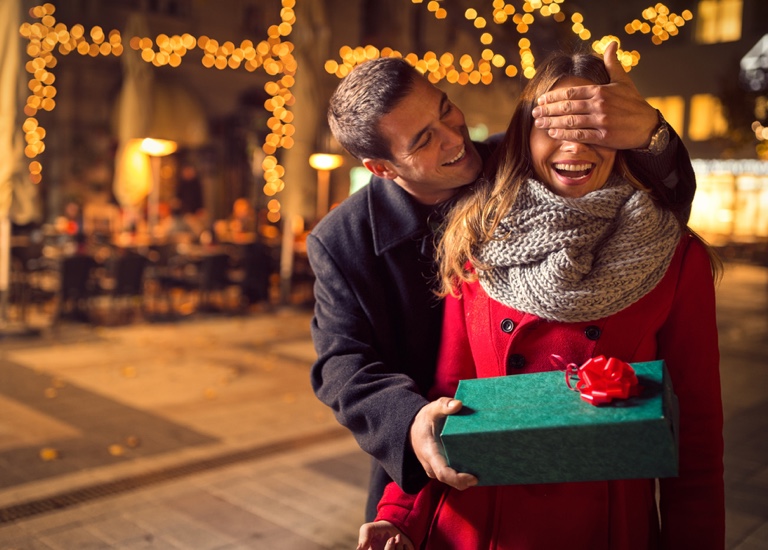 Festive dating dilemmas (and how to solve them)
It's said to be the most wonderful time of the year. But the festive season can bring its fair share of dating dilemmas too. Here's some of the common questions that arise over Christmas, and how you can attempt to smoothly navigate them..
Should I buy my date a gift?
Buying presents can be stressful if you're not sure whether it's appropriate, or what you should get. Whether you buy someone a gift will likely depend on the amount of time you've been dating. If you think it might be the right thing to do, you can test the water by asking the other person if there's anything they'd like. This opens the pathway communication and ensures the other party won't be taken by surprise (and feel bad if they don't have anything for you). If you don't feel comfortable discussing it, or feel it's too soon, perhaps consider a token gift such as flowers, something from a Christmas market, or a bottle of wine. A low key gesture will give you peace of mind and is sure to make your date smile.
Can you break up with a date before Christmas?
Ouch. This is a tricky time of year to tell someone you don't want to continue seeing them. If you're absolutely sure it isn't going to work, then the sooner you have a frank conversation, the better. Don't put it off to later in December only to find they've bought you a thoughtful gift, or planned romantic Christmas dates. Always consider how you'd feel if the situation were reversed and be kind, but firm.
Should I invite my date to my carol service?
Christmas carol services are the perfect opportunity to invite friends and family along to your church. They also serve as a warm, charming and laid back date opportunity. There's likely to be lots of other visitors attending, so you won't feel as exposed bringing someone along, nor will they. Mulled wine and mince pies afterwards give time to chat and you have the reassurance of being surrounded by people you know. Keep it relaxed and don't introduce your date to all your mates if it's the first time you're meeting. However, if you've been seeing each other for some time, this may just be the ideal way to let them mingle with your nearest and dearest. Whether it's the first date or one of many, this is a super setting in which to meet up this December.
Is Christmas a good time to take a break from online dating?
Year-on-year statistics show that the festive period is one of the busiest times for dating sites. There's a number of reasons for this. In winter people gravitate indoors, onto computers and the desire to find a loved one to snuggle up with increases. The same applies to Christmas – it's seen as a romantic time of year, bringing more people who had been procrastinating, onto dating sites. New year's resolutions are also a cause of new profiles appearing. Added to all this, many singles find themselves off work, with extra spare time, inside, and bored – so the amount of online chat and messaging that goes on sees a noticeable peak. Now is a great time to be more active than ever.
This can be a really fun time of year to be dating. It's filled with possibilities, potential and hope. Christmas is a season of new beginnings in more ways that one. So enjoy it, and make the most of all the opportunities it brings.
Get weekly blog articles direct to your email inbox