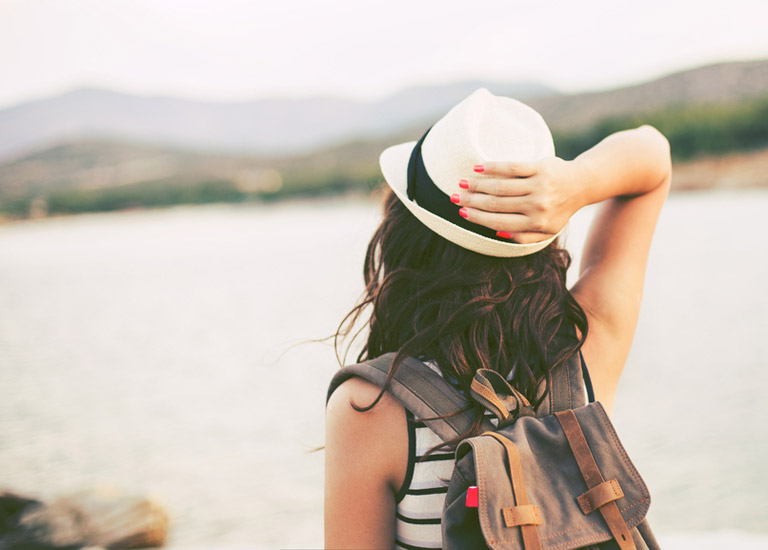 How to holiday as a single person
'One of the hardest things about being single is having no one to go on holiday with,' said the Facebook post. 'I can't imagine going away on my own, so I haven't been on holiday for years. What do other singles do, HopefulGirl?'
As the days get longer and spring beckons, our thoughts turn to holidays and planning a much-needed break. But holidays are a sore spot for many single people – and not just because of the dreaded 'single supplement'.
Some people are unfazed by exploring far-flung corners of the globe on their own, and set off regularly to do just that. A couple of my single friends at church are always posting pictures of themselves in exotic locations or halfway up mountains – Facebook is the only way I can keep track of where they are!
However, for many of us, going on holiday alone would feel more like a punishment than a treat. Instead, we spend our annual leave at Windowsill Bay. But it doesn't have to be that way. For those of us who don't have a partner or family to spend holidays with, planning a break may involve a little lateral thinking – but it also means we have the flexibility to do something different and enjoy the company of a variety of people.
Do you have any single friends you can pal up with for holidays? For years, I've enjoyed trips to festivals with single friends. Just this week, I've booked a glamping tent at my favourite Christian festival, sharing with my pal and two of her friends. Other people go on spa breaks or island hopping with a single friend – or even a married friend, with their spouse's blessing.
Talking of married friends, couples and families are sometimes happy to include single friends when planning holidays. It's not as crazy as it sounds. I've been away several times with my best buddy and her husband, and I've never felt like a gooseberry. Meals and days out together were fun, and when they retired to their room for some couple time, I sank into a good book in my own room. Bliss! Now they have a baby, I'm looking forward to our next trip, when I can spend some one-to-one time with my new godson and give his mum and dad a break. So don't be afraid to float the idea of a holiday with friends who are married or have families.
Churches are perfectly placed for group getaways. In my own church, several families get together to hire a big villa in the south of France for a month every summer, and couples, families and singles from the congregation book in for various weeks. I've not yet joined the party, but I'm told it's a blast. Or perhaps you could suggest the idea of an official annual church holiday. This can be at a conference centre, holiday park or budget hotel, during an off-peak season to keep costs low. Or you could arrange a group trip to a conference such as Spring Harvest. It gives the whole church a chance to build deeper relationships.
There are also Christian holiday companies that arrange trips for singles. They're not aimed at people trying to meet a partner (although you never know!), but at those who find themselves without a suitable travel companion. Even packages that aren't specifically for singles are welcoming to solo travellers, and you'll find a friendly bunch of like-minded people with whom to enjoy your trip – and make new friends along the way. Here are some UK Christian holiday companies worth checking out:
Alternatively, you could simply use your holidays to visit friends and family around the country – or the world – who you rarely get to see. Really, what could be nicer?
How do you spend your holidays? Do you have any tips or suggestions for fellow singles?
Get weekly blog articles direct to your email inbox