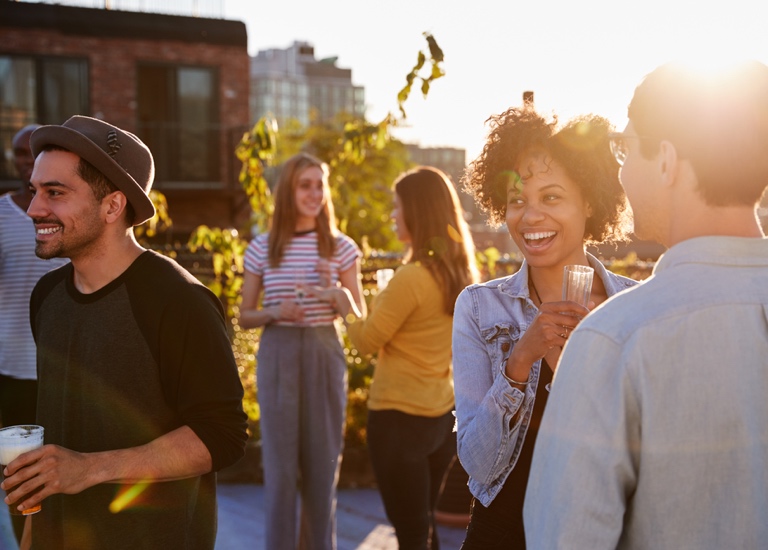 Making connections: how to plan a singles meetup
Last month, I shared some tips for putting on an event at your church for single Christians. However, getting to spend time with other single believers doesn't have to mean running an all-singing, all-dancing, all-praising extravaganza. If you'd prefer to start small, a local meet-up on your patch is a great way to make new connections and doesn't take too much arranging. You don't have to start a new career as an events organiser to meet people!
Spending time with other singles can be as simple as going for a drink or meal at a local pub or restaurant. There are rarely any up-front costs, as each person will pay their way on the day (you might need to put down a deposit if it's a large group). A meetup could be a one-off, or it could be a regular event (say, monthly), and can include any number of people from two to 20+.
If you're at a large church, and you know there are other singles but you don't bump into them regularly, you can start the ball rolling by giving a notice that single members are invited to congregate at a particular venue. A post-service Sunday lunch at a local pub is a popular option, as you're already all in the same place – but a weekday or weekend evening is great for those who find nights in alone a challenge. Encourage people to tell you in advance that they're coming, so you know who to expect and can book a table if necessary.
If you're in a small church, and your reason for organising a meetup is to get to know singles outside your congregation, then you'll need to find ways to reach them. The advice in last month's blog, applies here too. Contact other churches (your minister may have email addresses for other church leaders). Make use of Meetup.com, Events for Christians and the Meetups area on Christian Connection. Put a notice on your church's Facebook page, and your own, and ask friends to share it and spread the word through their networks.
Don't be afraid to start small. Even if only a couple of people turn up, you shouldn't feel discouraged – people are often cautious about joining things until they're established. However, they may have interested friends and news will gradually spread, and if you make it a regular event, attendance will grow over time. Stating that your meetup is for friendship and fellowship, not a dating event – or even expanding it to include anyone wanting to make friends (rather than just singles) – may make it seem less pressured and more attractive.
It's good to be mindful of the needs of people who might come along to your meetup. Attendees may have very different budgets – a £50 lunch with fine wine at a posh gastropub might be fine for some people but will be out of reach for anyone on a low income, so it's best to keep it cheap and cheerful so everyone can be included. If anyone has mobility problems, a venue with disabled access makes all the difference (as does being offered a lift there). A restaurant with a wide variety of options on the menu will mean people with different food requirements are catered for – a pizza joint may not work for someone with gluten intolerance, and if you have vegans or vegetarians in your group, a steakhouse may not be the best choice! If your party includes single parents, you could consider a venue that's kiddy-friendly, or let them know of any trusted babysitters or families in the church who might be willing to give them an evening off.
Of course, you're not limited to meals and drinks – almost any activity can be turned into an opportunity to meet other people. How about a country walk? A book group? A games night? A day out at a local attraction? With a bit of imagination, there are endless ways you can get people meeting, talking and forming new friendships.
Get weekly blog articles direct to your email inbox