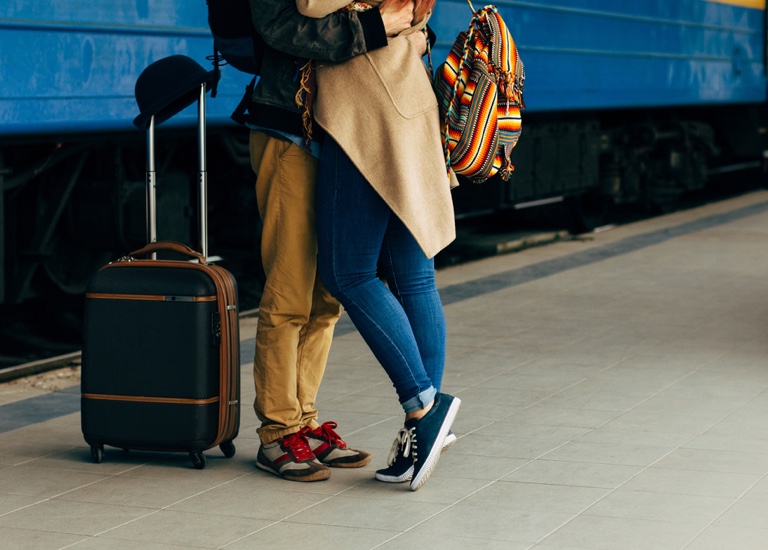 Lasting the distance: 7 tips for long-distance love
'I've got exciting news, HopefulGirl – I met an amazing woman on holiday,' my pal told me over a drink. 'We both think this could be the "big one". There's just one problem… she lives in the States.' Oh, boy. Of course, I'll be delighted if my friend has met Ms Right – he's desperate to settle down and he's been unlucky in love. But 4,000 miles is an awfully long way. I don't envy him one bit.
When I was internet dating, I tried to put people off contacting me if they didn't live within striking distance of my home town in the UK. But there was one chap in the States who persisted and we ended up swapping messages for over a year, despite us both knowing it was a non-starter. One day, he announced out of the blue that he wanted to fly to Britain to meet me after all. I remember saying: 'But the worst outcome would be if we actually like each other – because then what…?' (We never did meet but we're still Facebook friends).
Long distance relationships are tough. Just meeting in the first place is hard enough (see my blog Meeting Across The Miles here). But some people make it work, and go on to have happy, lasting marriages. So if you've met someone special who lives far away, and you're embarking on a relationship, here are seven tips for managing long-distance love.
1. Prioritise time together
To develop a genuine, healthy relationship, there's no substitute for spending time together. Like, in the same room. It won't be easy – trips may be expensive and time consuming – but you need to make it a priority. If you're serious about each other, start allocating resources and time – saving up money and ring-fencing annual leave from work – to spend time with your beloved. Never finish one visit without planning the next one, and try to set a limit on time spent apart.
2. Keep communicating
Even when you're apart, it's essential to be in close contact to continue getting to know each other and keep the bond alive. Email, text, instant messaging and WhatsApp make staying in touch easier than ever, but 'face to face' time is important too. Make use of Skype or Facetime. Have 'date nights' where you eat a meal 'together' by Skype, play online games like Scrabble while chatting, or watch a film 'together' and discuss it afterwards. With different time zones and sleep schedules, this might take planning and compromise. Meanwhile, think of ways to let your beloved know you're thinking of them – a postcard, a gift, a photo of what you're doing right now… When I was in a long-distance relationship, I'd hide little messages and tokens around the house for him to find after I'd left.
3. Share the load
It's good to share the cost, time and energy of travelling as much as possible. There may be times when one person does more of the heavy lifting, due to other responsibilities and limits, but as a general rule you should both be pulling your weight. If one of you is doing all the hard work, it may be time to reconsider your commitment as a couple.
4. Keep it real
It's natural to want to make your time together a special experience. However, pulling out all the stops every time can give the illusion of life as a couple being one long holiday, with no dull chores such as shopping, DIY and taking out the rubbish. When a colleague of mine embarked on a long-distance relationship, the pair made a decision to fit into each other's normal lives, rather than fill every visit with fireworks (they're now happily married). Little things build intimacy as much as grand gestures, and downtime together is valuable.
5. Look to the future
It's easy to get caught up in the romance of long-distance love, but sooner or later you need a down-to-earth discussion about the future. If marriage is on the cards, which one of you will move? What are the implications for your jobs, homes and families? Will there have to be a legal immigration process? These discussions may be scary, but you should ensure you have the same goals and visions for the future, and understand exactly what's involved.
6. Trust and be trustworthy
When you're apart, it's easy to slip into obsessing about what your partner is up to, and with whom. But jealousy poisons relationships, so unless they've given you reason to doubt them, trust your other half and let them know you have confidence in them, without constantly checking up on them. Likewise, it's essential for you to be honest, transparent and without reproach, so they can feel secure in your love. Provoking jealousy or making them feel vulnerable is not healthy or loving.
7. Set a deadline
Long-distance relationships tend to develop more slowly, and the 'fog' of infatuation can last longer because, by its very nature, the romance is part-reality and part-fantasy. Some folk don't progress to serious commitment because, in truth, they prefer to keep love at arm's length and avoid the hassles of a day-to-day partnership. In order to not waste years on a dead-end relationship, it may be helpful to set yourselves a deadline (or have your own mental deadline) for one or both of you moving and making a serious commitment.
Get weekly blog articles direct to your email inbox