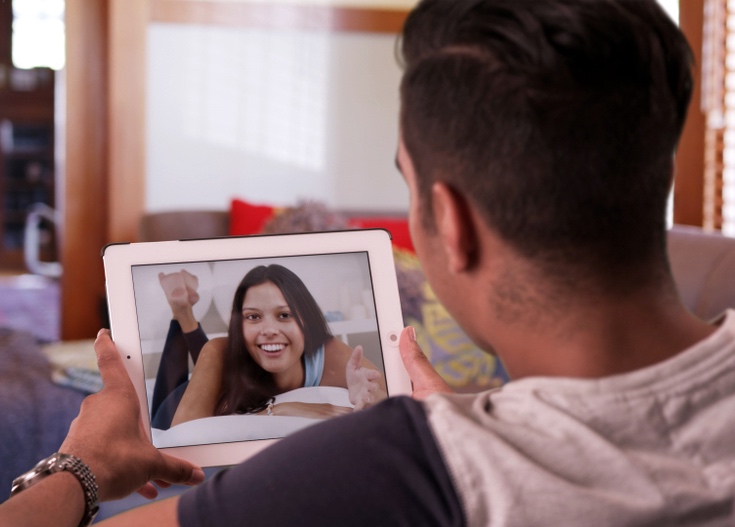 Love, virtually: making connections from a distance
Now we're all staying at home and avoiding contact with anyone outside our households (I hope!), where does that leave us when it comes to dating and relationships? First dates are notoriously awkward, but at least if you're in a pub or café, or doing an activity together, you can make small talk about your surroundings or what's happening around you. Not so easy in a video call! Interacting through a screen may help you discover if there's a spark, but it's harder to really connect when we're communicating from our individual bubbles. So, how can you get more from your virtual dates?
Without the usual distractions, chatting by video call is an golden opportunity to take the conversation a little deeper, and start to discover whether your date's interests and values align with your own. Keep the chat flowing by asking questions (write a list if you're worried you'll dry up). Consider things like… Why did your date choose their career, what do they like about it, and what are the challenges? What's the story of their Christian journey? Who are the most important people in their life? What are their passions and interests? What kind of church do they go to, how does it help them grow, and how do they serve? What feeds their spirit and brings them joy? Take time before each date to consider what you know so far, and what you want to delve into further. You could even make a "20 questions" game out of it.
If you've been on several virtual (or real-life) dates with someone before meeting became impossible, or you're already in the early stages of a relationship, no doubt you're frustrated that you can't meet in person. It feels unnatural not to be able to interact physically (no, not like that!) but you can still continue exploring what makes each other tick. In fact, enforced separation can actually help you get to know each other on a more profound level, as you have no choice but to engage in deeper conversation.
However, don't forget the little things, as these are what strengthen the connection in a long-term relationship. Ask how their day went, especially if they were facing a challenge such as a tricky work call. How are they coping with living and working in lockdown? Observe their changing moods – when they're happy, or are feeling low and need a boost. Get to know their daily habits. This is also a time when you might start to bond spiritually. Some people like to pray together by phone or video call. If your church is livestreaming services, you could "invite" each other to church.
A note of caution, however: it's best not to get carried away and assume too much at this stage. When you're lacking company and things to fill your time, it's easy to over-invest in a virtual relationship, which may not survive when normal life resumes. Make sure you have lots of contact with friends and family too, and other outlets for your energy and emotions. And always consider how well you really know and trust someone before sharing personal information.
But if you hit it off, this could be the perfect time to grow a future relationship. Remember, many married couples are apart for long periods of time for work or military service. They report that frequent contact, staying involved in each other's lives, and supporting each other emotionally is what sustains their bond. If they can do it, so can we! And when this pandemic subsides, we can meet in person, in the knowledge that we know and understand each other on a deeper level than before.
---
Read our advice on how to set up a virtual video date.
Get weekly blog articles direct to your email inbox