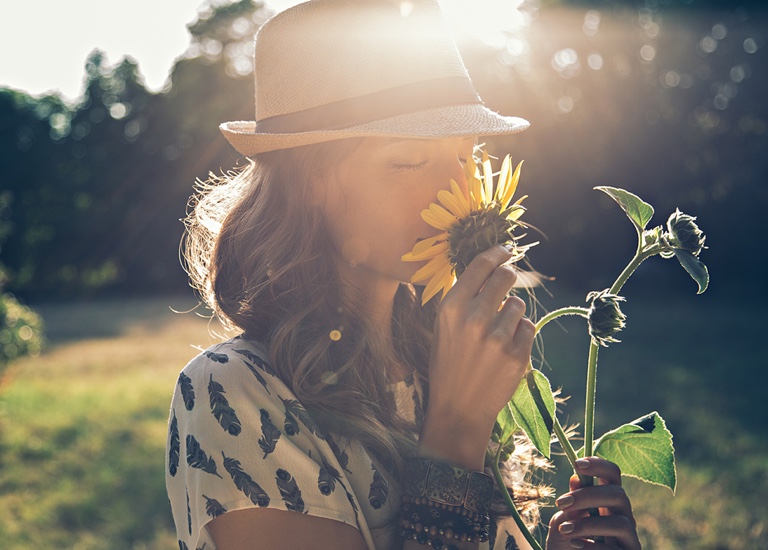 Practising gratitude and thankfulness (even when you don't feel like it)
January can be a tough month and, let's face it, dating can be hard, especially if it feels like a long road for you. So if you're feeling fed up, what can you do to increase your positivity and foster a happier outlook?
Not only does the Bible tell us to practice intentional gratitude and thankfulness, but mental health experts also recommend it. And the great part is, there are some practical steps you can take that really work. Here are some tips for a more grateful approach to dating:
1. Appreciate the small things
'Take time to smell the flowers' might seem like a cliche, but there's a lot of value in this old saying. Mindfulness is about noticing details and staying in the moment. It could be a simple as tuning out traffic noise to focus on birdsong for a couple of minutes, enjoying running your hand over a softly textured cushion or consciously and quietly savouring the meal you're eating. Slowing right down and zoning in increases our sense of awareness and appreciation.
2. Make nightly thankfulness lists
It's so easy to overlook blessings, which is why we often need to bring them to mind. The worse you're feeling, the more valuable this is as an exercise. Keep a notepad by your bed and every night, before you go to sleep, jot down between five or ten things for which you're genuinely grateful on that day. Perhaps a good book, a stroll in the sunshine, a helpful colleague or a kind word from a stranger. They don't need to be big things, and it's ok to struggle. In fact, the more you have to rummage around your brain to find things, the more likely you are to be surprised by the little moments of joy in your life.
3. Use post-its and notes with positive sayings
Write down encouraging bible verses, your thoughts on gladness, or quotes from others and stick them up in places you'll see them (mirrors, fridges and computers are all good spots). When life gets busy and stressful, it can be easy to forget to stay thankful. As it's a mindset that you must actively pursue, reminders are beneficial. They'll help cheerlead you on your dating journey when you feel like you're flagging.
4. Show gratitude to others
Some things are infectious – joy, laughter and gratitude. It's an especially good practice to bring into your dating life. Always show appreciation if you've been treated to a drink, meal, coffee or received a gift. It can also be nice to send a quick thank you message after a date – whether it was a success or not, it costs nothing to show appreciation and leaves you both feeling more positive about the experience.
5. Volunteer
Another tried and tested route to gratitude is to volunteer with those less fortunate – it helps to get things into perspective and count your blessings. It's also an interesting point to add to your dating profile and who knows, you might even meet your perfect partner while doing it.
These may seem like straightforward steps – and they are – but they're also powerful. Don't underestimate the difference that small changes can make. When you adopt a more thankful attitude, it tends to radiate toward others and multiply. That'll make you more appealing to be around (ideal for dating) and likely even attract others who share this ethos.
Get weekly blog articles direct to your email inbox