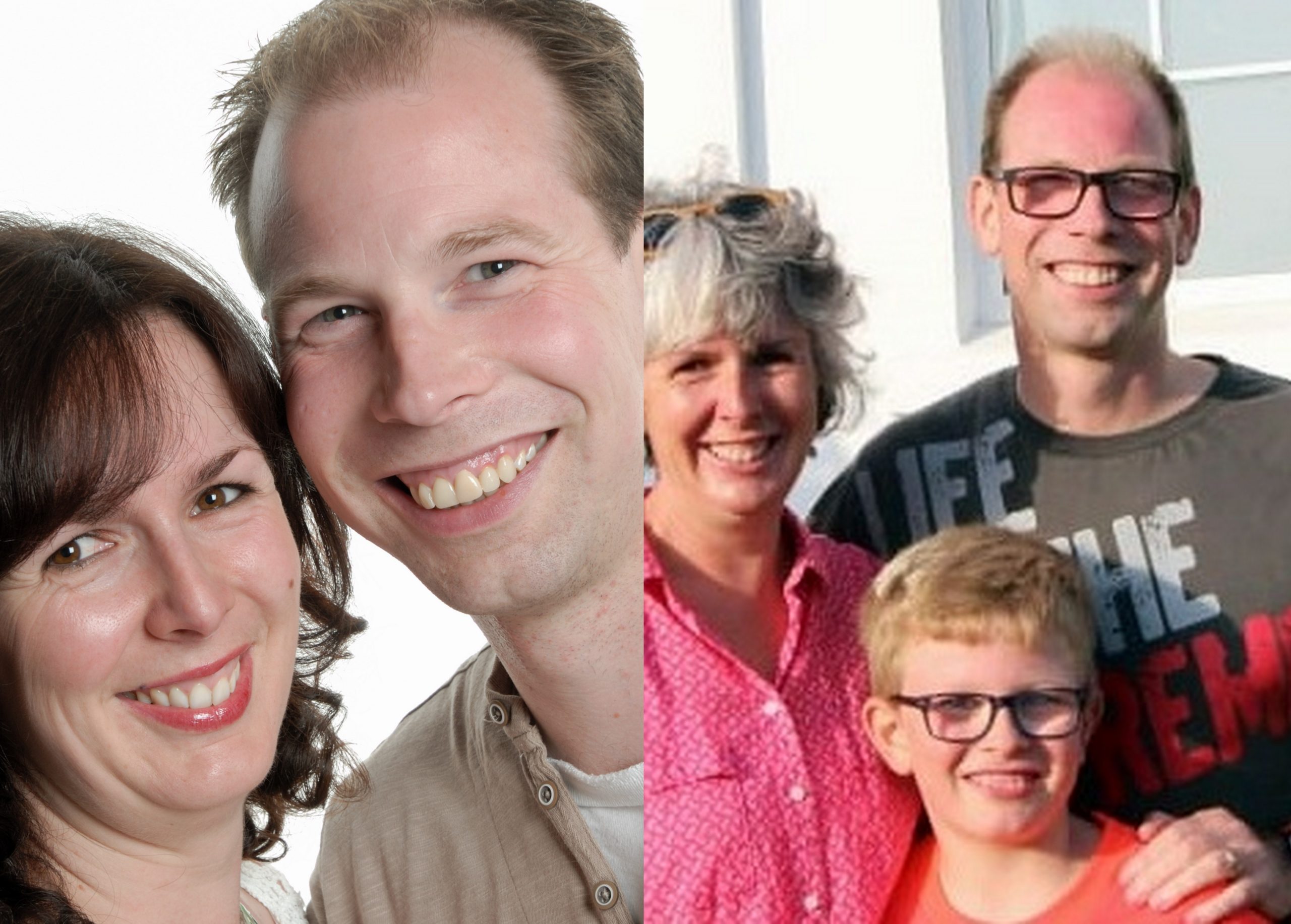 "I remember telling Jane she was the one" – Jane and Mark, our Christian Connection story
This year Christian Connection celebrates 20 years of bringing couples together. Mark & Jane met on CC in 2008 & tell us what's happened since…
Jane: I really wanted to meet a Christian man and had tried free Christian sites with no luck – I liked the way the site worked where it matched you to potential partners. I had been single for 10 years and knew the Christian single scene fairly well but Christian Connection was really good and very easy to use even a decade ago!
Mark: I had tried a couple free sites but found there was a lot of time wasters on them. Due to having to pay for Christian Connection this not only ensures there was a professional service but also the people using the site were genuine. We had sent a few emails and then chatted on the phone. The conversation with Jane felt very easy, I really felt relaxed around her. On our first meeting we had food and chatted then we moved to the bar and sat at the table. I was even cheeky enough to give her a kiss, it was like a real answer to prayer it could not have gone any better.
Jane: We first met in person about 3 weeks after we connected online back in June 2008. At the time I lived in Blackpool and Mark lived in Bristol and was moving to Plymouth very soon – a mere 6 hours drive on the dreaded M6 on a good day. We met in a pub in Stafford about halfway between us both and had a meal. As soon as we first met it was very easy to get along and talk to each other. My gran had just died and Mark's gran was very poorly and we were both close to our families so this created a bond very quickly.
We got engaged in November 2008 – I had resigned from my job and decided to move to Devon to be nearer to Mark and we had discussed marriage vaguely so I was very glad he asked me to marry him as I moved down south. We got married in July 2009 in Plymouth, Devon and it was so lovely. All my friends and family made the trip down to celebrate with us so it was such a beautiful day. Mark already had two children aged 11 and 10 so I became a step-mum as well which was really special. We would take it in turns travelling to see each other at weekends and chatted on the phone during the week.
Mark: I remember telling Jane she was the one. It was agreed that Jane would move to Plymouth and move into a friend's house from church. I felt it was only right, and of course we were in love, to propose to Jane before she moved to demonstrate my commitment to her. I proposed in a church service where I was giving my testimony and finished by saying that we are christened in church, married in church, have our funeral service in church – all in witness to God so why not get engaged and then asked Jane to marry me. I even got a standing ovation!
Jane: We celebrated our 10th anniversary last year and we have a 9 year old son between us as well as the two other children. Our marriage has been everything I dreamed of as a single girl – I know it sounds cheesy! Our first year of marriage was possibly the biggest challenge as we had both got used to living in our own houses and having our own space so sharing our spaces was difficult at first. Since then we have had the usual ups and downs of life but we do try and face it all together.
Mark: Now we have been married for 10 and a half years and have a 9 year old son. We work perfectly as a family, we don't pray as much as we should together but we do most Christian things together. It has not always been easy, getting used to having Jane in my life every day was hard at first, but I am glad to say every year of our marriage is better.
Jane: Obviously one of the high points was having our son and he brings us joy (and challenge) every day. We also bought our own house together and we have spent time renovating it – this was a lot of fun although it always takes us ages to make decisions.
Mark: Being married is amazing and it is hard to think of individual things, when I think of more how we operate as a family together. There have been many times I have not agreed with Jane on certain decisions but it would prove to be the right decision and I think Jane would find the same. I think the main thing is the support we have for each other. I was made redundant 18 months ago and after working for 28 years I wanted to take three months off work, so I could fit out our kitchen. Jane was totally supporting of me and was agreed. We sat down together and looked at our money and what we could and could not afford to do.
Jane: One of my biggest challenges has been my mental health. I suffer from anxiety and experienced post-natal depression after our son was born. I feel guilty sometimes about putting extra pressure on Mark when I am struggling but he never seems to complain. I feel blessed that I have a husband who can support me when I get stressed out.
Mark: There were times in the early days where I really struggled with Jane being in my life and house every day, I missed my own space and felt my life was not my own. I am not sure how, but that is fully resolved. We do things together but also do things separately with other friends. We have so much trust and respect for each other that maybe was not there at the beginning of the marriage.
Jane: I was surprised to find I am not perfect. When you are single and live on your own you get very used to your own ways – being married rubs the edges off you and makes you realise that maybe you aren't always right and that there other ways of doing things.
Mark: I did not know marriage could be this good. I thought it was just a dream and not really possible. I always knew I was perfect and am surprised that Jane has also now realised this. OK I may have just made that last bit up.
Jane: My advice to others who want to meet someone is be deliberate. There is nothing wrong with seeking a partner – talk to people about your search and what kind of person you are looking for. Try new activities and experiences – it will give you confidence and make you more attractive. And finally I would say "Hold your nerve" – you may feel like time is running out or you are getting left behind but getting the right partner is a decision for life – don't make a mistake by rushing.
Mark: Pray, only when I really prayed and promised God that I would be a good husband and respect the person he choose for me rather than seeking my own wife did He arrange for me to meet Jane. We had both kissed a few frogs first, there is no harm in this and helps you to know when things don't seem right, but also you will know when you have met the right person. There is no such thing as rushing, in our case we met, got engaged, married and had Samuel in two and a half years. If it is right it is right. At our wedding we were given an acronym by our minister to remember and use throughout our marriage it was  KFC which was to mean, kindness, forgiveness and compassion and this has worked for us. Oh and of course use Christian Connection!
Get weekly blog articles direct to your email inbox