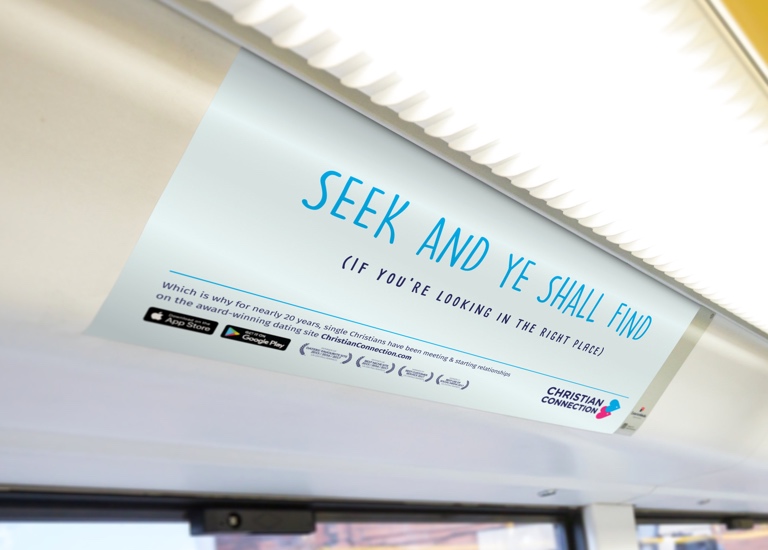 'Seek and ye shall find' Manchester Commuters Are Told
As weary commuters return to work this week, they are being told 'Seek and ye shall find' and 'Love is patient, love is kind'. The Bible quotes will be familiar to many, but rather than a cry from the pulpit to repent, the positive messages are being aimed at single Christians looking for love.
The campaign, which is running at the busiest time in the dating calendar can be seen on the Manchester Metrolink this month. It has been created by Manchester artist Micah Purnell for the award-winning dating site ChristianConnection.com. One advert states that "Love is patient, love is kind. (But sometimes hard to find)." That is, unless you're looking in the right place.
Joff Williams from Christian Connection explains: "For many Christians seeking a partner, it can be really important to find someone who shares their faith. But people lead such busy lives and with church attendance dropping, it's hard to know where to start".
The site has matched thousands of happy couples since it launched nearly 20 years ago and many have been keen to share their stories and photos. One couple recently told their story to BBC News, in a feature exploring how people of faith find each other.
Miriam and Emmanuel met on Christian Connection and have been happily married for six months. Emmanuel told the BBC: "I met other women who weren't of the same faith as me, which was difficult. So, I thought if I want to get married [to a Christian], I needed to refine my search" Miriam says, "It was as if we were best friends straight away. Now we are married I'm so excited for our future!"
January is traditionally the busiest time of year for online dating, as people make resolutions to get fit, eat healthier and find a partner. Williams says "We see membership numbers almost double in January, so it's a great time to step out of your comfort zone and meet someone new. But whether you're a Christian or not, single or otherwise, we hope this campaign will put a smile on your face at a time when we all need a little bit of positivity in our lives."
Download a PDF of the adverts here
Download Hi-res JPEGs in a ZIP file here
You can find out more about Christian Connection here.
Get weekly blog articles direct to your email inbox