Christian Connection launches 'Christians Make Better Lovers' ads
Christian Connection launches an advertising campaign on the London Underground – the first specifically religious dating site to do so.
Looking for our 2016 campaign? Click here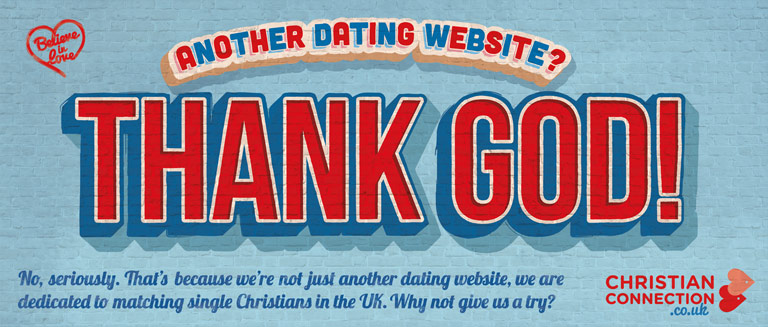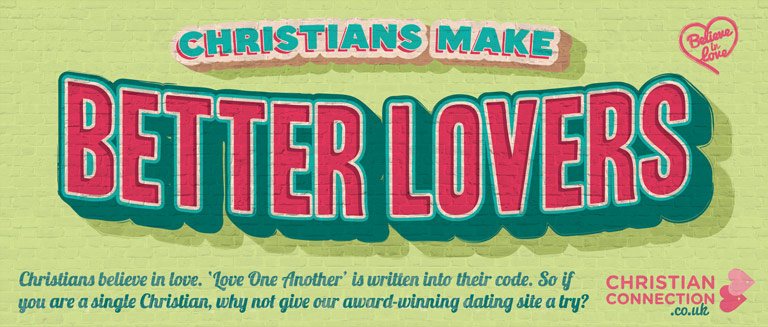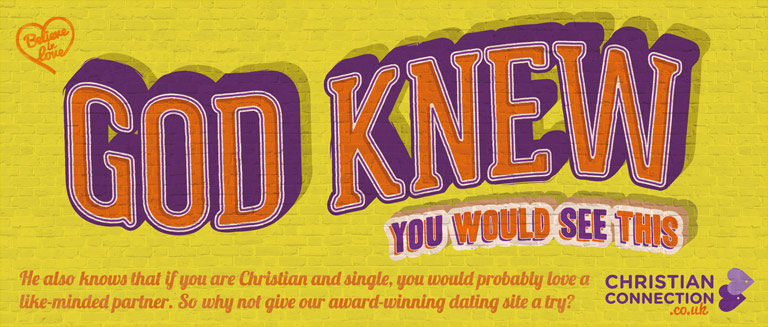 Download a PDF of the advertising artwork here
Download Hi-res JPEGs in a ZIP file here
Launched in 2000, Christian Connection is currently the largest Christian dating site in the UK and was voted best niche dating site at the international Idate awards of 2013.
There are an estimated 1.4m single Christians in the UK between the ages 25 and 60 (attending church once a month), many of whom live and work in the London area. The site has already facilitated thousands of relationships and marriages.
The campaign centres on murals created by graphics artist Alex Fowkes. One claims "Christians make better lovers" with "love one another" a key part of the Christian code.
"We wanted to be friendly, engaging and surprising," said Christian Connection founder Jackie Elton. "We hope it will make people of all faiths and none sit up and take notice. The campaign informs single Christians about a website that may help them find a mate who shares the same world view," she added. "The style is exciting, colourful and delightfully retro. Until now we have relied on religious media and word of mouth but we want to spread our wings and reach a wider range of Christians. They are out there – we want them to know we are here."
The campaign's creator, Chas Bayfield from advertising agency Noah, said: "We believe this is a great opportunity to tell the world about Christian Connection and create a campaign that is contemporary and relevant – not something many church organisations are known for!" he said.
Chas is no stranger to the church or Christian Connection. He has designed several advertisements for church advertising campaigns over the years.
Read more about Christian Connection
Find out more about Noah
Press enquiries – please contact media@christianconnection.co.uk and somebody will get back to you within the hour. Alternatively call Stephen Goddard on 01744 733898
---
Press Coverage
Jesus can make you a 'better lover', London commuters told
The Telegraph – 8 Jan 2014
Christian Connections 'Better Lovers' Underground Tube Advert Appears To Make Some Bold Claims
Huffington Post – 8 Jan 2014
Jesus can make you a better lover, posters on the London Underground claim
London Evening Standard – 9 Jan 2014
"Christians Make Better Lovers," According To New Dating Site Campaign
Fast Company – 10 Jan 2014
Ad slogan 'Christians make better lovers' causes underground frenzy
Prime Time – 10 Jan 2014
Dating site proclaims 'Christians make better lovers'
PR Daily – 10 Jan 2014
'Christians Make Better Lovers,' Claims Ad Campaign
Adweek – 13 Jan 2014
'Christians make better lovers' – dating site's new advertising campaign
Christian Today – 9 Jan 2014
Christians make better lovers, proclaims Christian dating campaign by Noah
The Drum – 8 Jan 2014
Dating site launches 'Christians make better lovers' campaign
Brand Republic – 7 Jan 2014
«Jesús hará de ti un mejor amante»: campaña en el metro de una agencia cristiana de citas
Religión en libertad – 9 Jan 2014
Christians Make 'Better Lovers' Says New Tube Adverts from Christian Connection
Global Dating Insights – 9 Jan 2014
Christian Dating Service Tells Commuters: Jesus Can Make You a 'Better Lover'
Christian Post – 8 Jan 2014
London-Based Dating Site Uses Risqué 'Christians Make Better Lovers' Slogan to Attract Singles
Christian Post – 14 Jan 2014
---
Awards
Best Outdoor Campaign -Dream Awards from Drum Magazine- 5 Oct 2015
Get weekly blog articles direct to your email inbox