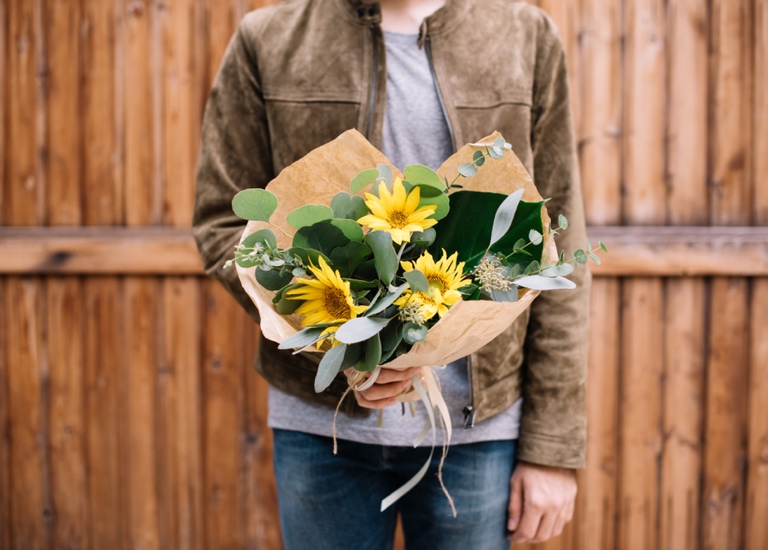 What's the Valentine's etiquette if you've just started dating or chatting? 
If you're not yet dating properly (and unsure if it'll even progress to that stage) you may be wondering how to handle the 14th February. Should you send a card, buy a gift, or suggest a Valentine's Day meet?
Here are some tips on Valentine's etiquette, for those in that tricky 'in-between stage' at this time of year.
Bring it up in conversation
If you've already met in person a few times and there's a clear rapport, it may be worth mentioning it. You're probably both going to be wondering what – if anything – you should do. You could go all out and ask if they fancy a Valentine date. Or bring up the topic of cards and gifts to reveal their views (if you don't want to make it obvious, you could chat about the subject generally – like talking about shopping for someone's birthday).
Use it as an excuse to get in touch
If you've not yet met, there's every chance you won't want to chat about it – directly or indirectly. And that's totally fine. Many people use the rule that if you didn't exchange Christmas presents, you don't need to do it on the 14th of February. But it is a great opportunity to make contact and send a lighthearted 'Happy Valentine's Day' message. This way you're acknowledging it and reminding them that you're interested romantically, without doing anything too full-on.
Opt for alternative gifts and cards
Unless you already knew each other beforehand, you shouldn't have swapped addresses after online chats and/or a date or two. This means you'll be unable to post anything. And sending to their place of work, if you know where it is, is a definite no-no at such an early stage. Perhaps you're pretty sure that things are progressing. Or they've mentioned a love of gifts and cards and you'd like to mark the occasion. There are plenty of e-cards and voucher gifts than can be sent via link or email. These can be bought online, although making your own saves money and adds a personal touch.
Keep dates simple – or be clear about your intention
Perhaps it just works out that you're both free on Valentine's Day. You shouldn't completely avoid the 14th if it's otherwise convenient. But do bear in mind that restaurants and bars will be busier, possibly more expensive and likely full of loved up couples. If you're having a first or early date, this can be annoying and awkward. So opt for something casual, like brunch at a street food market, or a cafe by day.
If you do fancy something significant and formal, ask upfront if you can take them for a Valentine date. If they agree on this basis, a card, some chocolates or simple flowers are in order. And if you've been asked out specifically for Valentine's dinner, it's good etiquette to take a card and/or a small gift. If you're not feeling it, or very much in the friend-zone, don't say yes to an elaborate night out on Valentine's Day. Doing so would send the wrong message and only set them up for disappointment.
Be slow to take offence
We all have different ideas and approaches to special days and celebrations. Some people place a lot of value in the giving and receiving of gifts. Others find it uncomfortable or don't give them a second thought. If your relationship does progress, these are the kinds of things you should note for future events. In the meantime, you can't be expected to know everything about them or vice versa. Take it lightly if you bring a card or gift to a date and it hasn't been reciprocated. It's not necessarily a sign of their feelings and if things go well, there's always next year.
If you're on the receiving end of an unexpected card, gift or message and you've come to the conclusion it's nothing more than friendship, this isn't the day to let them know. Be polite, say thank you, then after Valentine's has passed, you can have an honest and gentle conversation. Equally, you don't have to wait for Valentine's to say you're interested. Romance isn't confined to the 14th of February – every day holds the potential for love to blossom.
Get weekly blog articles direct to your email inbox