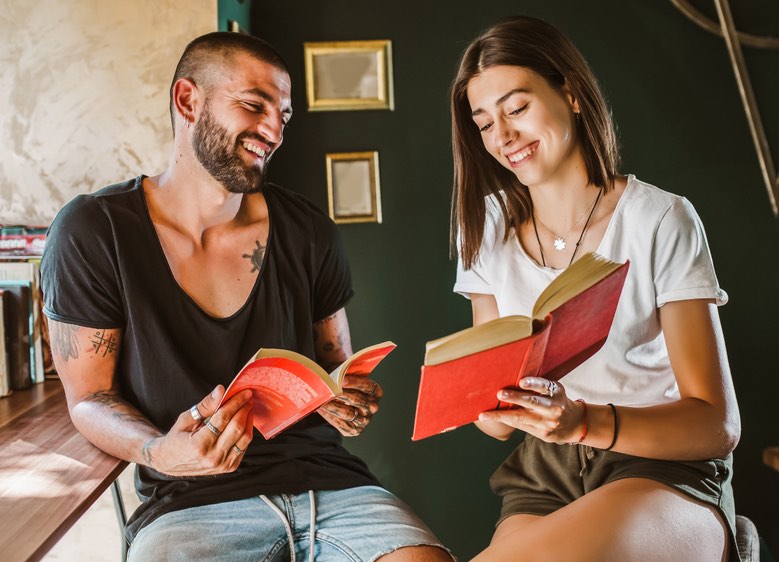 4 reasons an authentic dating profile leads to better matches
When writing an online dating profile, most people wonder how much to share. Should it be short and sweet, or a deep dive into who you are and what you're looking for? If you've added a few of your favourite photos then you've made a great start, but there's far more to you than a photo! What you write is where you can really show who you are and help create an authentic dating profile. So, if you haven't shown the true you yet, it might be time to give your profile another glance.
Unusual hobbies and passions can make you stand out from the crowd, and may even help you find a partner who loves the same things. Sharing a glimpse of your personality and taste to create an authentic dating profile could give someone else a good idea about whether you'll get along.
Common interests can be conversation starters
On Christian Connection, all our members have one important thing in common: their faith. But when you think about your ideal partner, perhaps you hope they'd share your love of sci-fi, or jive dancing too. Maybe you'd know they were a match if they recognised the name of your favourite obscure indie band. You might just be looking for someone with the same quirky sense of humour. Sharing who you are and what you're passionate about in your dating profile is the best way to meet matches you know you'll have a connection with.
Jax and Michael, who met through Christian Connection, found that a love of cars was the perfect conversation starter. In fact, when Jax noticed that Michael owned a 1957 Morris Minor she thought "I need to reply to this man"!
For Michael, the common interest was only the beginning. "She also said in her profile how interested she was in cars and transport history and things. And so as she said, that gave us a topic of conversation. But I think it's important when you meet somebody online, that there is a mutual connection there. And we clearly found it in our two profiles."
Opposites can attract!
Of course, what you have in common isn't the only thing that makes a match. As the saying goes, sometimes opposites attract. You might spot someone who happens to be a fan of a rival football team, and bond over a little friendly competition!
Couples often share how their different interests keep life interesting. Christian Connection blogger Katrina wrote about 'Dating with different interests' and shared, "My husband and I both like wining and dining, travelling, and people-watching but we also like to do our own thing: sport and music for him, reading and writing for me. Coming back together we find we then have something new and fresh to share with each other. Result: our differences enrich the quality of our marriage."
Remember to keep things amicable even when you don't have the same opinion, and those opposite interests could be the spice in your life.
The 'true you' can shine through
Don't be afraid to show your personality in your dating profile. It's not all about swiping photos! On Christian Connection, our profiles allow you the space to give others a good idea of who you are. Couples who met their perfect match on the site often share with us that getting a sense of what the other person was like from what they'd written in their profile helped them decide to reach out.
When Pam met James on Christian Connection, she was impressed by how much of his character he showed in his profile. James told us that he made full use of the space allowed to show off his quirky, funny and relaxed character: "I must have put something like "Jollof rice for breakfast! And that's kind of like me, tongue in cheek."
For Pam, the person behind the dating profile shone through his words. "I could sense his personality through it, I can tell that he was quite funny, quite laid back… but at the same time, quite confident and assertive in his in who he is… he had that all on display. That point is when I decided to send him a message, because I thought we'd probably get on quite well."
You can learn how to 'be yourself'!
Writing about yourself can be hard. Is it showing off to talk about the five languages you speak, or boring to mention your Scrabble-champion status? You might not be sure where to begin.
Why not think about what you'd love to learn from someone else's profile and start there. If you spotted someone else with a love of linguistics and board games, wouldn't you want to say hello? Never be afraid to be who you are. It's the best way to meet someone who likes you for you!. If you're really unsure how to describe yourself, try asking a good friend what they'd say about you, or check out our guide to perfecting your profile.
You never know what unexpected interest could be the deciding factor when it comes to someone sending that all-important first message. Take Christian Connection couple Emma and Sam, who found they had a mutual love of cats, and something little less common. Emma told us what they connected over: "Country music… which was leftfield. We actually had a wedding with elements of country music, because it's so shared with us."
So, whether connected by common interests or curiosity about a hobby you've never heard of, adding those little details to your Christian Connection profile can make the perfect conversation starter, and might just be the nudge someone needs to reach out. Just mentioning your favourite Christmas movie might turn out to be the perfect icebreaker. Why not update your profile with an activity you'd like to share with a partner today – you never know who might be reading it tomorrow!
What are your top tips for creating a truly authentic dating profile?
Enjoyed reading '4 reasons a truly authentic dating profile leads to better matches'? Explore the Christian Connection blog for advice on all aspects of online dating and more. Watch more videos of couples who #MetOnCC here
Get weekly blog articles direct to your email inbox