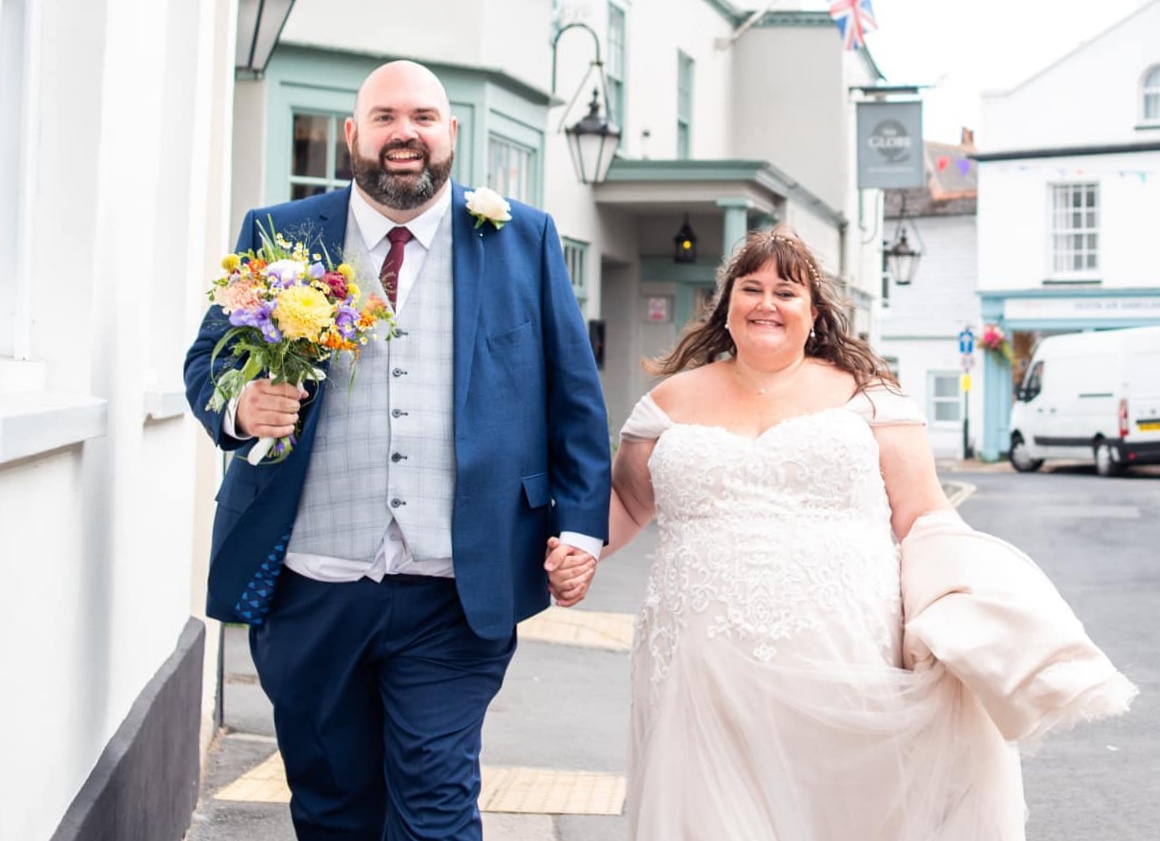 "I'm blown away and thankful for all God has done" – Christian Connection couples share their stories
Every story shared by Christian Connection couples is unique – and often full of surprises. Behind the #MetOnCC hashtags are the nervous waves, faltering first messages and cautious first dates that start so many modern love stories – but the stories don't end there! If you're wondering how Christian Connection members go from creating their profiles to walking down the aisle, read about couples who connected simply and prayerfully online, and those who overcame distance and pandemic restrictions to be together. Joy, encouragement and thankfulness abound!
Here are some of the stories shared with Christian Connection recently.
David and Jenna
Despite the disruptions of the pandemic, David and Jenna formed a lasting connection.
"We first chatted on Christian Connection in September 2020 and at the time I had come back to give the site another go and Jenna had just recently signed up. We had to face the challenges Covid brought and our first face to face meeting was on Zoom and the first time we met was a walk in the town where Jenna lives. I remember I drove a fair distance to meet her and was happy to do it to potentially meet that someone special, I also remember the first thing she said to me was you're really tall! (I'm 6'4″)
Fast forward nearly two years and we are married, which was such an amazing day with our friends and family and I have moved from where I was living, the place where I grew up and never thought I'd ever leave. I'm blown away and thankful for all God has done in our lives and is continuing to do."
Chidinma and Derek
For Chidinma and Derek, a simple wave was all it took to start a connection that led to engagement!
"Derek and I met on the Christian Connection site in August 2022… I had previously met someone on the site earlier but that didn't go well as it wasn't the will of God. I stopped renewing my subscriptions but did not close my account. On that beautiful day, he waved at me and asked if I was interested in talking to him that I should like his message which I did. I got his number and we took this to WhatsApp… we met a week later and now we are engaged to be married later this year.
It has been a blissful journey from the first day we met till now as God is involved in the relationship… I am truly happy to have met my wonderful fiancé on CC.
Thank you for creating this platform for like-minded Christians to meet. Be honest and do not be dismayed. At God's time, the right person would come.
Colin and Maria
When Colin and Maria connected online, prayer was an important part of their relationship journey.
"We met on Christian Connection when Maria liked Colin's profile. After a few days of exchanging messages we decided to meet for a lunch date. Even on that first date the conversation was starting to go deep, and we had a sense that we could be right for each other. We prayed before parting and committed it all into God's hands.
The following weekend we were talking marriage by the end of the day, and we commenced nightly video chats reading the Bible and praying together. Every time we prayed we would sense God's peace. We ended up getting married two months after that first date. We've now reached almost 16 months together now and know beyond doubt that it's something God has ordained."
Daniel and Sarah
When Daniel and Sarah met online, they didn't let distance get in the way of their growing connection.
"Sarah and I met on Christian Connection back in 2016. We both began chatting and moved to phone contact. She was in NYC and I was in SF Bay Area. We talked every night and began getting serious in 2017. We knew one of us would need to fly out and Sarah asked me to fly to NYC. I flew into NY and we met in Times Square for the first time on her birthday in 2017. It was very romantic! We ended up dating that week and I flew back to California after our initial meeting. We kept seeking God for our future.
We definitely matched well and I sought out a transfer from California to NY with my company and it was granted in April of 2017. Sarah and I continued seeking the lord for our marriage and were engaged on Good Friday 2017. I asked her to marry me prior to the service that day at Brooklyn Tabernacle.
We were married in Brooklyn in March 2018. I took her home to the Philippines in December of 2018 and we got married a second time in front of her entire family. We will make 5 years married in 2023 and we have had the blessing of God on our lives. God has given us miracles and success in life. We are living out our dreams that we spoke of when we were first getting to know each other. We plan on another trip back to Sarah's home country in 2023 to see our wonderful family again.
My number one tip for anyone seeking a godly relationship is to pray together, read the word and establish your faith together with the lord in spirit and in truth."
Elise and Thomas
When Elise and Thomas met on Christian Connection, they learned from past experiences to build a promising future together.
"Our first date was an escape room, it forced us both to interact and talk to each other, it broke the ice for sure and made for a lot of laughs. I think to have a chance at actually finding someone you have to be willing to put all guards down, past hurts aside and be 100% honest. It takes a wonderful man to love someone else's kids like they are his own and I found mine on CC. We met in July 2022 and our wedding is March 2023."
Read more stories of couples who started their love story on Christian Connection here.
For help getting started on Christian Connection and making the most of the site and app, check out the great advice, stories and encouragement in our blog archive.
Get weekly blog articles direct to your email inbox