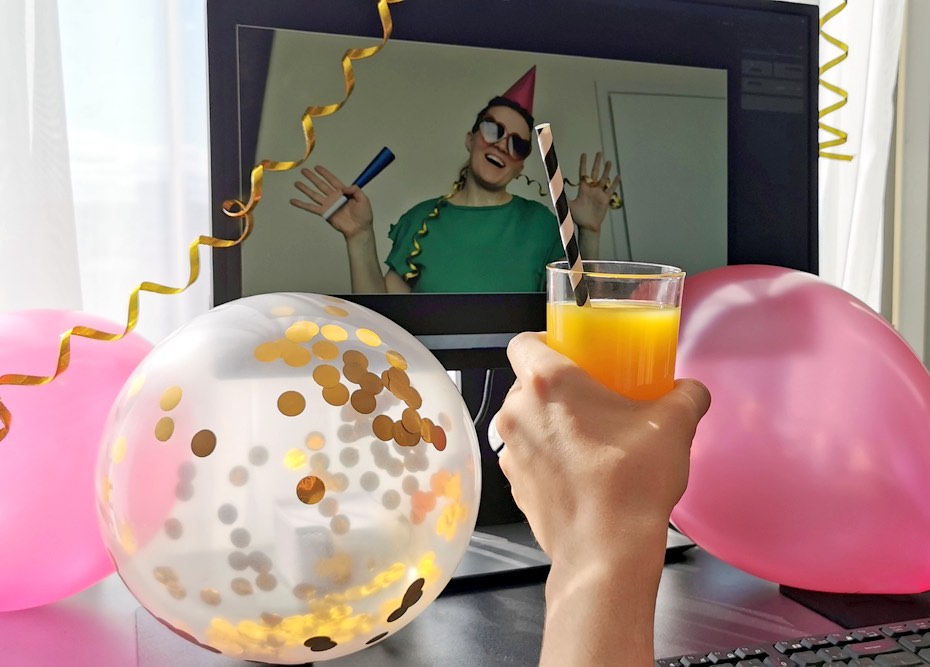 Celebrating special moments – remotely
If you've just started messaging or are in the early stages of getting to know someone, not being able to meet for regular dates can be tricky. Video chat, calls and messaging can help bridge the gap, but that trickiness can be multiplied when it comes to marking a special occasion – a birthday or a new job. How do you celebrate with someone new when distance is an issue? We have some ideas for fun occasions…
Throw an online party – for two!
In the early stages of dating you're not likely to know each other's family or friends, but you can turn a video call into a party for two with a little effort. You could dress up in something nice – or opt for fancy dress if you're feeling daring – and decorate your room with a simple handmade paper banner or balloons. Making a little speech marks the occasion and lets the other person know you want to celebrate them. You don't need to go to big, or any, extra expense if it's hard to do or doesn't feel appropriate. A toast with a cup of coffee and a few nice words can still be special!
Make a playlist
One of the most interesting parts of a Christian Connection profile is the music section! Whether you've filled yours with top Christian songs, progressive rock or a classical selection, it's a great insight for your date and can provide inspiration for a virtual gift. Making a playlist is a simple but personal way to show you want to get to know someone better and pay attention to their interests. If you've discussed a favourite artist you could seek out an old track or be first to share their new work. Or add a couple of unexpected songs you hope they'll like – or may at least end up as a talking point.
Be memorable
If you're looking for interesting first date ideas and find out your date is also celebrating something around the same time it can be thoughtful to combine them in some way. You won't have any shared memories at this stage but you can make some! A virtual picnic – or a socially distanced one if you're close enough to meet in person – can be special with something sparkling to drink, and a couple of sweet treats. Writing a poem or song (if that's your secret skill) can be entertaining or touching. And, if dietary requirements and baking talents work out, a homemade cake often goes down a treat…
Send an online card or gift
As technology facilitates so many of our connections it's a natural development to carry this into special occasions. If you're at the stage of swapping email addresses it's simple to send an animated greeting card with a personal message or meaningful Bible verse, a link to a download of music or a film or something that has personal meaning but reaches someone through a screen. It's a lovely way to create your own atmosphere wherever you are, and brighten a regular day.
Post a gift
Being careful to ensure your safety and not overstep anyone's comfort level or boundaries, consider whether sending something through the post or courier would be appreciated and appropriate. It's possible to get almost anything delivered so if you want to play it safe with flowers, a book or something nice to eat or drink, approach the subject sensitively. It should be easy to gauge enthusiasm for sharing personal information – don't push beyond what's safe or welcomed by the intended recipient – and revert to online celebrations until you can connect in person.
When there's a lot going on in the world it's worth making the most of good news and happy events. Whether it's a birthday, a new job, graduation or something personal, taking some time out to offer congratulations can be memorable, rewarding and help develop your growing relationship.  Proportion is important – you're probably not going to hire an orchestra and arrange a firework display (just yet) – but showing someone you care is always appreciated.
Get weekly blog articles direct to your email inbox