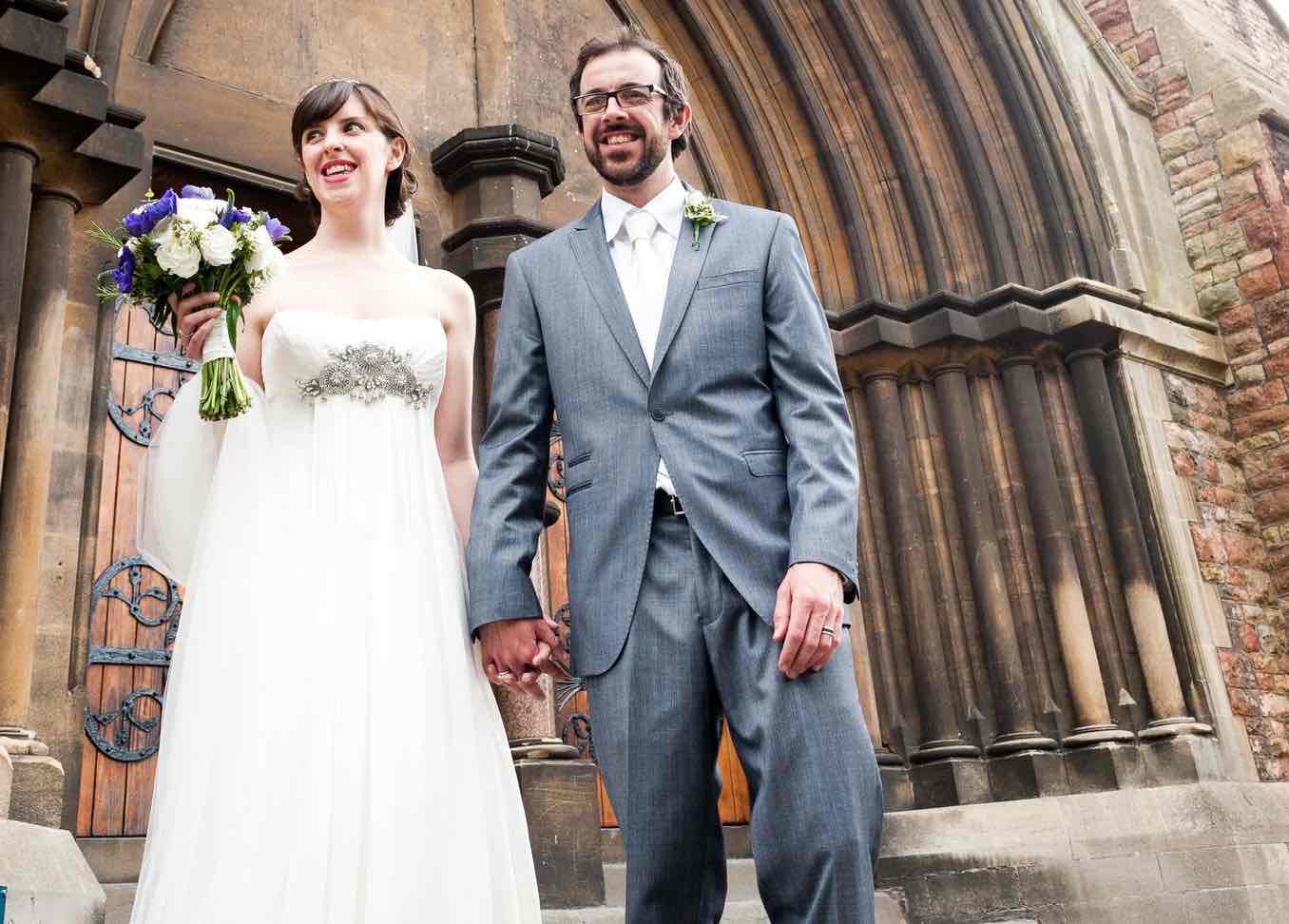 "We shared our faith and our stories" – Christian Connection couples talk about church
The importance of a shared spiritual connection is vital to lots of single Christians, and going to church together is often a great way to start learning what you have in common. Whether you can meet in person at the moment, or attend an online service or group, getting to know each other in a faith setting can make a big difference. Many Christian Connection members tell us how important church is to them. It's the place where they find community, support and like-minded people to worship with. It's also the place they've found very helpful as they date and build relationships.
Elke and Kevin first made contact on Christian Connection, and decided to explore their growing interest. "After sharing quite a few friendly emails with Elke over a month we finally met one Saturday morning for a casual walk on the beach, in the rain," said Kevin. "Unfortunately what we thought would be a gentle drizzle turned into a downpour and we both ended up soaking wet. This however did not deter us as we went on to share a nice warm coffee and a chat, which resulted in a second date that evening when we attended church together." Their relationship developed after their church date. "Over the next six weeks we shared our faith and our stories and felt immensely blessed in having met one another, so much so that we both knew we wanted to share our lives together," they told us, after they got in touch to share their story and wedding pictures.
Andy and Roche got married after meeting on Christian Connection. "Getting to know each other in real life, mixing with each other's friends etc was invaluable," they said. "We were both very grateful to God for bringing us together and for surrounding us with church family who were part of us getting to know each other."
For Robert, who got married to Joy after they met on the site, taking a chance on mixing with her church community meant they were able to deepen their relationship.  "I didn't pluck up the courage to really get to know her until the August," he said, "but after a few days of messaging we decided to meet up in person, at her church. It proved to be a great setting to get to know her over the following months, amongst her spiritual family."
It's a small world!
Being single and a Christian, it's natural to think about forming a connection with someone already attending the same church. For some couples, meeting on Christian Connection came with a big surprise – they already went to the same church and hadn't realised!
"We both got talked into joining Christian Connection and noticed from our profiles that we went to the same church!" 'D' and 'B' told us. "We found we had so much in common and we fell in love. We both know God had brought us together. We had a beautiful love story!"
Emily and Joshua, who met on CC and are now married, learned they were part of the same church as they met for the first time and started talking. "Our first date was a relaxed and enjoyable evening with lots of conversation and discovering that we had a lot in common (including our church! – we were both based at two different campuses)." Without Christian Connection they're not sure their paths would have crossed. "Though we had mutual friends, we may never have met if it wasn't for you!"
For others there was another connection. "Remarkable thing is that for a site that covers the whole UK, I met someone from pretty much down the road who went to the same church as one of my aunts!" said Mark, who met Madeleine on the site.
For Esther and Steve, connecting on the site gave them the opportunity to really get acquainted – and eventually, married! "We had met briefly a few times through a Catholic prayer group but had never really had a chance get to know each other. Then Steve saw my profile and sent me a message on Christian Connection and we met up for drinks and dinner. It was a great evening and we really hit it off. A big thank you to Christian Connection for helping to bring us together!"
Finding support
Lots of churches can't meet together at the moment, so asking the question "Should I take my date to church?" might be a little irrelevant! There are still online services, groups and opportunities to meet each other's faith community and its often worth doing if you're thinking about whether you might have a future together. There are also big advantages to introducing someone you're interested in getting to know better to people who are looking out for you.
For Lewis and Rebecca, visiting each other's churches was a vital part of their relationship. "After two weeks of online chatting we decided to meet up at a church event and everything just fell into place. From that day we were inseparable. Over the next few weeks we visited each other's parents, churches and introduced the children to each other. Everyone who knew us just said how perfect we were for each other."
"We are getting married in my church, and so many people have offered their services for free, I am overwhelmed by their generosity. It all feels a bit dream-like for us both" said Audrey and Paul, who first met on CC.
"I was living in Lancashire and Matt in Bristol," Kate told us. "I moved down to Bristol in August and became part of his church." Together, they found the support there invaluable as their relationship developed. "We did a marriage prep course with a couple from church which helped us to strengthen our relationship. We got married in the following May. It was an amazing day with family and friends including two other couples (one married and one soon to be) who also met on Christian Connection."
How you build church into your dating and relationship is up to you! Everyone's experience is unique. It's simple to join Christian Connection and start waving and chatting today.
Get weekly blog articles direct to your email inbox