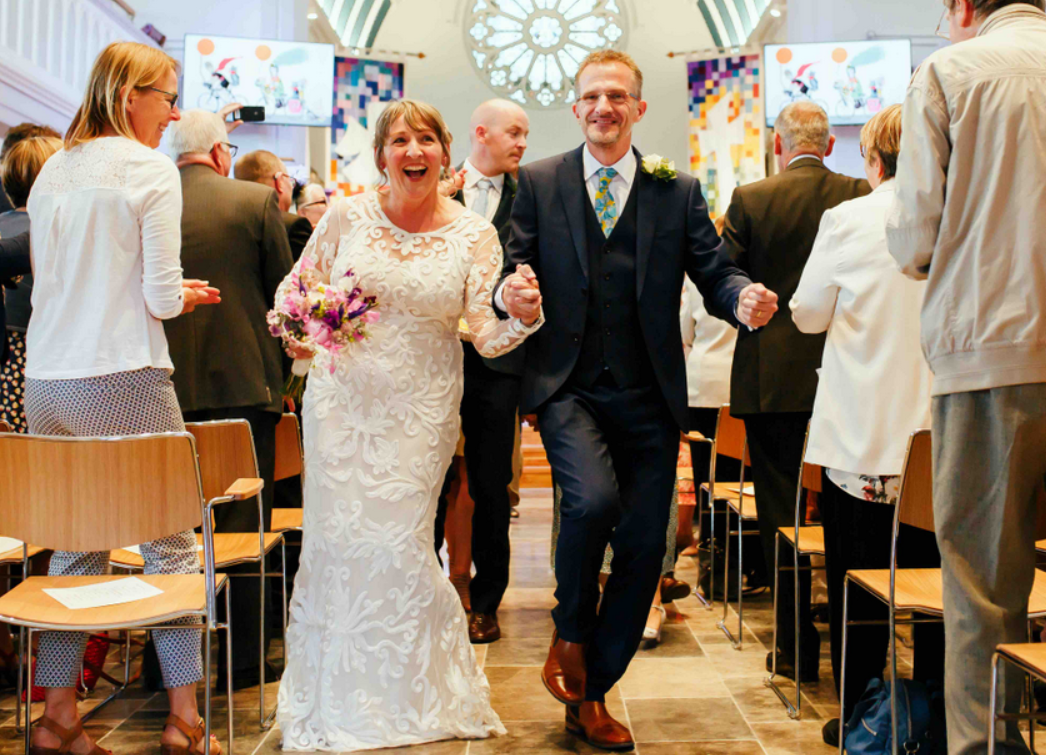 "She was on her last day" – Christian Connection couples talk about timing
How do CC members go from sending a shy wave or messaging a stranger whose profile they like the look of, to sharing their wedding pictures and tales of their fairytale romance? Over 20 years of helping Christians meet we've noticed it's often not as smooth as it seems!
When couples who've met on Christian Connection get in touch to let us know they've decided to be together, their stories are full of interesting and encouraging details. It's safe to say no two stories are exactly the same, but there are some common themes. One thing that played a part for many couples was timing. Here are some couples in their own words:
Rachel met her future husband after being a CC member for some time: "Andrew had only been a member for a week! However…I had joined Christian Connection four years previously for a couple of months then re-joined after Christmas. I waved first!!"
Katie, who married Tristan in 2006, had been a CC member for a while and was about to take a break from dating when she got a message from someone who had just joined: "Tristan feels he got a real bargain, having found me while on his free trial!!" she jokes. "I was coming to the end of my 3 months membership and I had been on holiday with friends where I decided I didn't want to be on the website anymore and decided that I was going to de-register myself, and leave the whole relationship thing up to God. I logged on supposedly for one last time, and had Tristan's smiling face staring at me. I thought it would be rude not to reply to his email. Well, the rest is history really."
Gareth had also just joined CC when he spotted Claire, whose membership "was about to end but, just in the nick of time, saw a new member pop up…." They married in 2019.
Fiona and Martin both joined at just the right time to connect: "We always say we met in the doorway as we had both only been members for a week or so when we read each other's profiles."
Polly and Stuart had both been long-term CC members: "We had both been on the site for a long time but finally God brought us together so patience and persistence paid off."
For Natalie, timing was a vital part of her being ready for what was to come: "I was once a cynic having been online for years and learning both the art of patience in the wait, coupled with growth in God off screen, meant God was able to present me to Sam in November 2016 and he winked, with a follow up email five months after. I never replied and I didn't even remember reading his email until I cleared my inbox to prepare to leave the site in frustration, when I suddenly saw this handsome man staring back at me. I believe God knew we were both not ready, so did a timely work in us both before he lifted the scales from my eyes to be able to see Sam."
Lucy's plan to spend a lot of time on CC didn't quite work out! "Nick and I joined Christian Connection within a few weeks of each other. Nick contacted me on his first day of the trial, just after I had paid up for several months' membership!"
Jon's fiancée only just crossed his path: "She was on her last day trial and I was on my last 3 days membership and I saw her on instant messaging and she lived near me."
Cathy was ready to end her membership when she had a last look at new CC members: "I logged on one day at the end of August with every intention of suspending my membership in order to maybe reflect a bit and seek God's heart for my life. However that day I thought I would check the new members first. One of the new profiles – Jason – caught my eye and I thought why not email him! I had a very quick reply from him and that was the start of a very beautiful relationship!"
So, whether you're thinking of trying CC or have been a member for some time, don't forget timing might be everything! Find out more here.
Get weekly blog articles direct to your email inbox