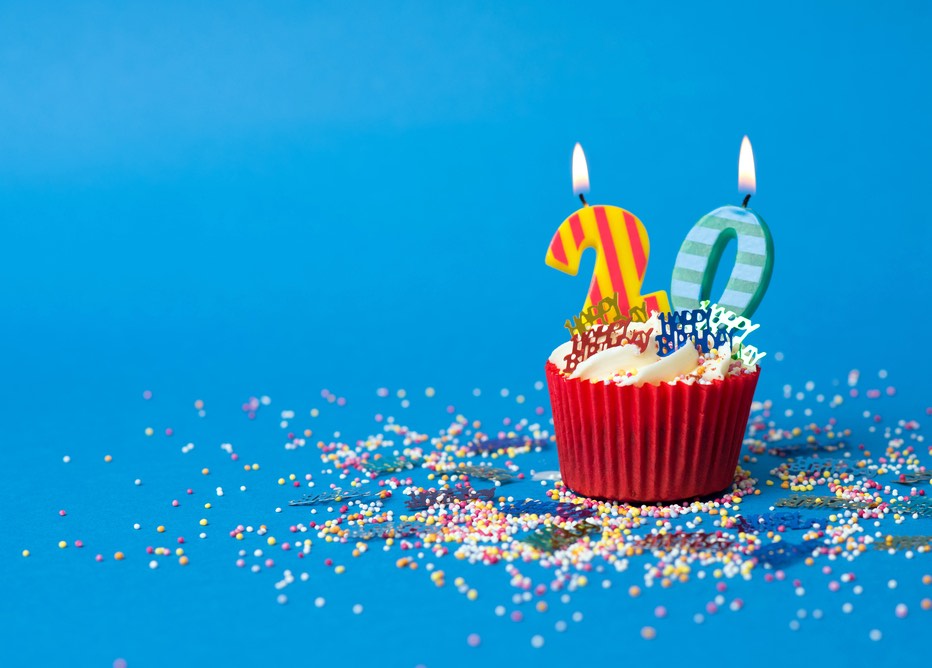 Christian Connection turns 20!
Twenty years ago, this weekend, Christian Connection was born. It was the year 2000. Online dating was a niche activity, thought of as unsafe, probably unbiblical, and only for the desperate. How times have changed! You are now much more likely to meet your next partner online rather than through your friends, family or co-workers. We've heard from hundreds of Christian couples who can testify to that.
The world looked very different back then. Google was in its infancy. Facebook, Twitter or Instagram didn't exist. We breathed a sigh of relief as the Millennium Bug, which threatened to crash the world's technology, failed to materialise. Craig David and Destiny's Child played on our radios. Almost no-one had heard of Wi-Fi, and smartphones didn't exist. Which meant no apps. Instead, we passed the time playing Snake on our Nokia phones, whilst watching the Sydney Olympic games or Euro 2000. And, somewhere in the corner of a field, Christian Connection was launched at the Greenbelt Christian festival in Cheltenham, UK.
Armed with a few hastily printed flyers and the offer of free 6-month membership, 60 people decided to brave it and join! As word of mouth spread – and because there was such a great need for single Christians to meet – numbers and interest grew rapidly. Less than six months later, in the Spring of 2001, Christian Connection made the front cover of the Daily Telegraph and a major feature in the Guardian. So, where did it all come from?
"I developed the vision of starting a Christian dating site of the highest quality, with which people of all Christian traditions would feel comfortable and safe and would give them a real chance to find somebody special."
Founder, Jackie Elton
Jackie's vision still drives us today, and whilst, due to Covid-19, we've pushed back our big plans to celebrate until next year (our 21st!), we're taking a moment to look back at all that we're grateful for.
The stories of love and friendship continue to inspire and encourage us. We are incredibly grateful for all the wonderful couples who have shared their dating journeys, wedding pictures and more with us. There have been some amazing stories about how people got together. Follow our stories series on this blog or with the hashtag #CCTurns20 on social media.
Some of the other highlights include the many popular events we've hosted, with over 300 people turning up to one speed-dating event. Several years later, the BBC filmed another speed-dating event for a special Valentines feature on Songs of Praise, their flagship faith programme. We're grateful for the different awards we've won, including the public-voted Daters' Favourite Site three years running. Many were keen to share their thoughts on singleness, dating and the church when we ran the biggest ever survey of single Christians in the UK. The results made media headlines and inspired us to launch the Single Friendly Church campaign, which is thriving today. The same year, we helped launch the Online Dating Association, to improve the experience for everyone dating online.
There's no question that online dating has changed the very fabric and rhythm of society. And although the world of dating has changed, the fundamentals remain the same: people seeking that special connection. Our post 20 things we've learnt in 20 years of Christian dating captures some of the interesting, heartwarming and surprising things we've discovered.
Every week, we continue to share new stories, tips and advice on this blog. If you have a story to share (or know someone who does), please let us know. We take everything we've learnt over the past two decades to continue to give you the best possible chance of finding and connecting with someone special.
Here's to the next 20 years of connections. 🥂
Get weekly blog articles direct to your email inbox