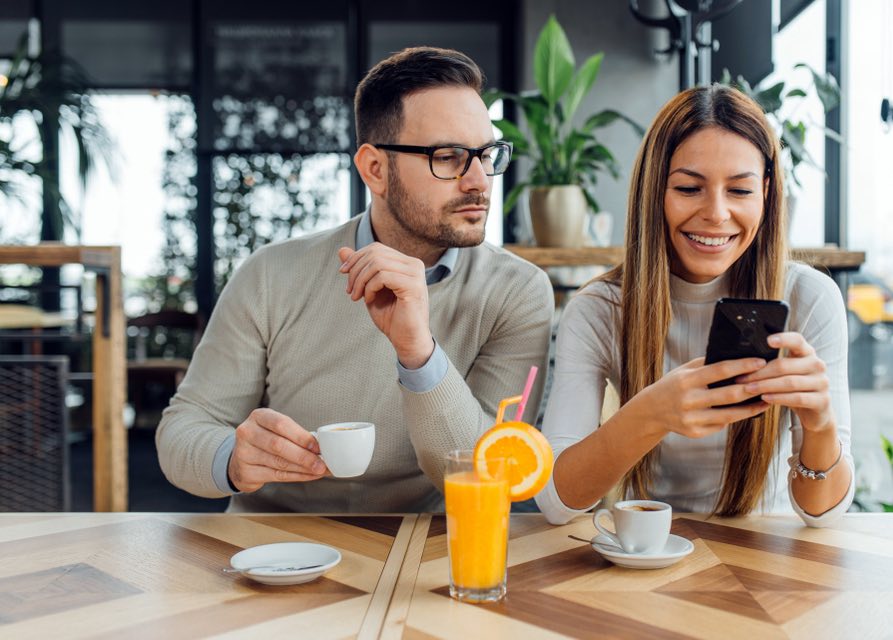 Don't let comparison steal your joy
A tricky thing, whether you're single or dating, is the temptation to compare your life, status or relationship with other people's. Whether it's strangers on social media, influencers, people you see on the street or even family and friends, it can be easy to assume others have it better. If you want to find love, seeing happy couples beaming on romantic breaks, picture-perfect proposals and lavish gifts with captions of "my one and only" or "so blessed" can be hard to take.
If you're in a new relationship, comparing what your partner is doing to win your affections to what you see on social media demeans your journey and relationship. This can easily lead to feelings of inadequacy and dissatisfaction – feelings that are not conducive to a loving, nurturing, Godly relationship. None of us can live up to the social media expectation. It's not real or sustainable. I've fallen into the trap of showing my husband 'couple' posts on social media, liking something I've seen, and it never achieves a positive reaction, only feelings of mediocrity.
How many times a day do we scroll through Instagram comparing our lives to celebrities and influencers? We start to wish we had a better figure or fitness regime, more muscle mass, the meals that look so easy yet so healthy, immaculate home decor, or the perfect marriage. Influencers and celebrities seem to have "it", whatever "it" is. It can be tempting to feel jealous, to think less of ourselves and constantly compare what seems like a drab, dreary life to their exotic, exciting 'perfection'. Here's what you need to remember…
You don't need "It" – you need God
Your identity should not be in the amount of likes you have, or what other people's opinions are of you, but in the love of God. God's love is steadfast, stable and constant, so rest in the assurance that God loves you no matter what the circumstance. "Give thanks to the Lord, for He is good, for His steadfast love endures forever." – Psalm 136:1
Find contentment in your situation
"I am not saying this because I am in need, for I have learned to be content whatever the circumstances." – Philippians 4:11. Wishing you weren't single or wanting photogenic, lavish outpourings of love, does not bring contentment. There's a time and a reason for each season that you are in – learn to enjoy where you are at.
Remember reality
Don't forget that most of the shiny-looking photos on social media and magazines are filtered. With hours prepping for that one photo, it is not real life. Looking perfect doesn't necessarily mean it's real! Imaging the time, make-up department and styling that goes into an image, especially when the picture is sponsorship to advertise a product.
Simple is best
The heart behind the relationship is what matters and not the trappings. The little things mean a lot. If you're starting to date someone, is it developing into a relationship of love? Do you feel safe and secure, can you trust your partner, do you know your partner is faithful and most of all honouring to God? If so, you are rich. If you are single, then hold out for someone who can give you these qualities, and not someone who can give you 'likes' on social media. A person of true value is one who will help you to grow in Christ and support you in serving Him.
A true, loving relationship does not flaunt, but can celebrate. "May I never boast except in the cross of our Lord Jesus Christ, through which the world has been crucified to me, and I to the world." – Galatians 6:14. It brings to mind the difference between the Pharisee and Tax Collector – the Pharisee flaunted his high and mighty status, the tax collector humbled himself before God. The one who honoured God the most was the tax collector – make sure that wherever you are at in life, that you honour God above all else. Everything we do should glorify Him, whether we are single, dating, in a relationship or married.
Get weekly blog articles direct to your email inbox