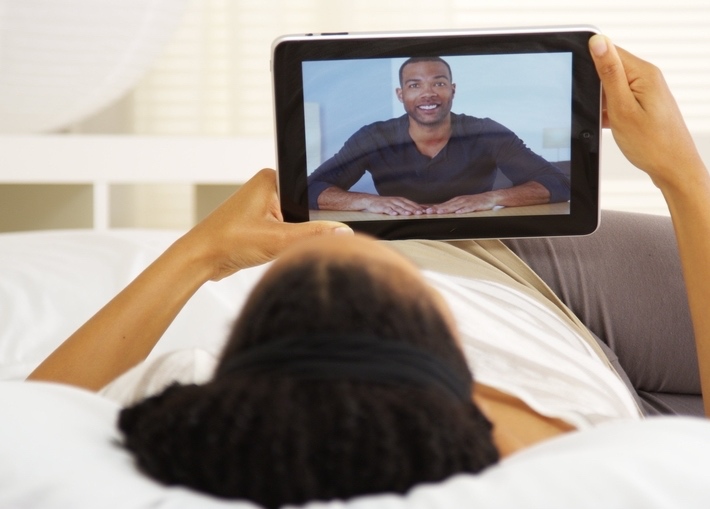 Finding love during lockdown – defining a new relationship
When it comes to connecting with someone on a dating site, you're probably aware of the usual advice to meet in person as soon as possible. Well, coronavirus has certainly thrown a spanner in the works with that! While restrictions are being relaxed in some places, you may not be able to meet in person easily, safely or even legally for some time. Some fortunate souls might be able to meet for a socially-distanced walk or picnic – assuming you don't need public transport to get there, and until one of you needs the bathroom! But hand-holding, hugs and kisses are probably off the agenda for now. So where does that leave you in a developing relationship?
You can get to know someone quite well through video calls and in-depth conversation – but if that's all you have until who-knows-when, can you progress to an actual relationship?
There are many happily married couples introduced through Christian Connection who have faced similar challenges – but due to distance rather than COVID-19. So it's certainly possible to build the foundations of a good relationship before meeting in person – and communication is key.
Let's say you've been chatting to someone for a few weeks or months, and you feel you have real potential as a couple. You've shared long discussions, you have a rapport and shared values, you respect their relationship with God – and through video calls (or maybe a date or two before lockdown), you're confident that there's chemistry. You're excited and you sense they feel the same…
Should you just continue chatting as friends, getting to know each other until you can meet in person and decide whether to give romance a go? Do you agree that you'll pursue a relationship, and become exclusive now as you grow your connection? Or do you keep your options open and continue talking to other people until restrictions lift?
Well, any of these is valid… as long as you're both singing from the same hymn sheet, and no one is being misled. So, nerve-wracking as it may be, if you feel this person might be right for you, it's important to have an honest and direct discussion to define the relationship.
You could open up the conversation by saying, "I really like you and think we have great potential as a couple. How do you feel about that?" If they feel the same, discuss what that means, and how things might pan out when lockdown is lifted or relaxed. For instance, the kind of dates you'd like to go on when you can meet in person, what's important to you in a long-term relationship, and, if you're long-distance, how you'll manage that.
In the absence of face-to-face contact, continue to look for ways to deepen your understanding of each other, as shallow chat will soon fizzle out and you'll lose momentum. Ask lots of questions, and pray together. Ensure you're both happy with the frequency of contact. Check in with each other periodically to see if you're both still feeling the same about the relationship.
It's also important to discuss boundaries, so you each know where you stand. Will you both continue talking to other people from the website, or pursue exclusive contact with each other? If you're both excited about a relationship, do you want to commit yourselves to that now, albeit in a limited way? Clarity is crucial.
However, it's wise to hold all these things fairly loosely for now, and not get carried away. You may become very attached to each other during social isolation, but once normal life resumes, one or both of you may find a real-life relationship isn't panning out as you'd hoped. Investing too much now could lead to disappointment later.
Having said that, many successful partnerships start out as long-distance romances, and this is actually a great time to get to know someone in a deeper way. Christian Connection is expecting some wonderful relationships to blossom during lockdown – and yours could be one of them.
Get weekly blog articles direct to your email inbox