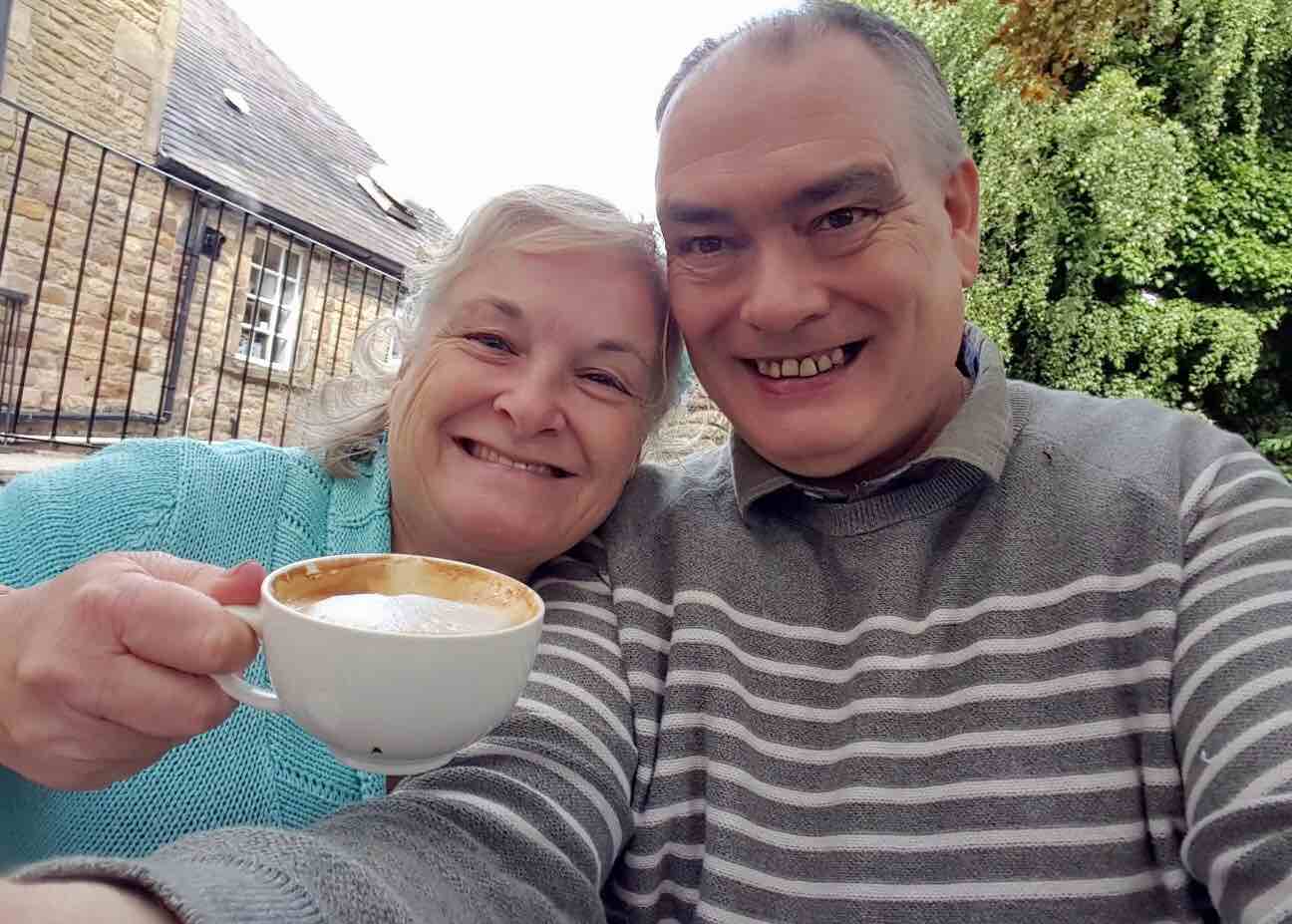 "We are very grateful" – Liz & Nigel, our Christian Connection story
Liz and Nigel lived in different UK countries when they first met on Christian Connection. In their own words they describe the anticipation of their first date, how their relationship developed into marriage and how life has changed since that first message.
Liz's story
I had been single for many years and although I'd had boyfriends, I never found the "right one".  In December 2015 I signed up to CC for another 6 months and prayed asking for the right man to come along if it was Gods will. I decided that this would be my last time on CC. In January 2016 I had a message from Nigel who lived in Cwmbran. Not too far I thought and in between my two sisters in Swansea and Worcester where I lived. We corresponded for a month, getting to know each other and decided we would like to meet up. On a Saturday in February we met at an Inn in Ross on Wye for lunch. I connected immediately with Nigel and apparently couldn't stop talking (which is unlike me!) I felt comfortable and after lunch was hoping that Nigel would ask to see me again. When he didn't I felt a bit flat but he did say he would be in touch (a familiar phrase?)
I didn't have to wait long as Nigel was in touch later that day thanking me for a lovely time. Over the next few weeks we found we had more and more in common and I knew that a future together was indeed possible. Because of the distance we only met on a Saturday, making the most of the day by meeting early and parting late, neither of us wanting to leave. We both liked hill walking so we spent many long days on the hills around Abergavenny, glorious countryside and lots of chatting! When we did our first bible study together I was so excited because we had the same beliefs and it was a real joy discovering the spiritual side of our relationship.
On a very special day in July Nigel asked me to marry him and I had no hesitation in accepting. We were married a year later in August 2017 and I will treasure the memory of that day forever. We would like to thank Christian Connection for bringing us together. We are very grateful as we would not have met otherwise.
Nigel's story
I remember a difficult year, trying to recover from the emotional trauma of the loss of a loved one and the pervading sense of personal isolation that had ensued. My faith had not been shaken by the catastrophic upheaval; I had been given a sense of release, of a new home for her where love never dies and happy fellowship with our Lord is a joyful and everlasting reality. My physical wellbeing, however, suffered a sudden deterioration. The stress I had been under manifested itself in a particularly acute condition of the digestive system and this necessitated a series of tests and scans to detect/rule out the same kind of diseases my loved one had succumbed to. God had need of me here for now, and nothing of any substance was found. I was relieved and knew that my Lord was guiding me carefully on a daily basis.
I then made all the usual mistakes, taking up with ladies who were patently unsuitable (although, in themselves, laudable individuals whose friendship I was grateful for) in the search for someone with whom I would share the good times life gives and in whose gentle company and support I could serve the Lord better each day. I was looking for a genuine partnership of faith; a woman who loved the Lord as I did and who shared the values I have. I did not want someone who was a follower or a leader. I knew I wouldn't have been happy with either. No, she would be her own person, ready to express her wants and wishes while being receptive to mine. Equality and mutual respect were to be essential elements in our relationship; we would delight in each other's company and in our partnership of faith.
Then, someone appeared on Christian Connection who was interesting, sharing the same values I did; someone who looked at the world in a similar way. I liked her profile and felt drawn to it. We exchanged eagerly awaited messages on the website and a delightful correspondence developed. I had decided that we should meet soon when, to my surprise, Liz made that very same request, although it was more like: " I think we should meet up to eliminate each other quickly from our enquiries should the liaison prove dead in the water, after all there's no substitute for one to one experience in such matters and, anyway, it'll save a lot of unnecessary effort in the long term if we establish our compatibility as soon as possible"….! I smiled as I read this, clearly she had endured the same series of disappointments and unfulfilled potential with others as I had. No point in hanging around-why not see if we had something to work with here, and, if not, then part on good terms to explore the merits of others.
We settled on a place halfway between Worcester and Cwmbran, an old world inn with great character at Ross-on-Wye. This would be where we would meet for the first time. I was so nervous travelling up from Wales that Saturday in February 2016, my mind was full of potential scenarios and concerns about making a favourable initial impression. I remember that the day was a little miserable weather-wise-grey with squalls and drizzle. I parked up at the front of the Inn while, unknown to me at the time, Liz had parked in the rear car park. I thought I was a little early so I set out to walk idly along the old bridge over the Wye to kill a little time. It was then I recognised the car she had described parked up at the rear. I turned around to make my way back to the front door of the Inn and, well, there she was. Our eyes met briefly and she asked the inevitable question… "Nigel?" I affirmed and I we shared an intense moment of panic that subsided quickly upon receipt of her warm smile. It was the genesis of all the joy and wonder that became 'us'.
That afternoon we talked with freedom and clarity, it was a relief and a pleasure to know that, in the flesh, we seemed to get on well and were quite relaxed in each other's company. I remember sitting and listening to a comprehensive account of her disabled daughter's history of care and support, and then thinking how happy I was that Liz felt sufficiently at ease in my company to share such with me.
At one point she was in such full flow that I had to remind her to eat the ice cream on her spoon before it poured down onto her top. Long before the end of our meal I had begun to hope that she was happy with me and would want to see me again. At the entrance on our way out we said our timid goodbyes, not sure what to say to each other but secretly wanting to reveal how we really felt. Then she gave me a pretty little bouquet of daffodils. I smiled inside and out, what a lovely gesture! I knew something of significance had happened to me that day. Later, we exchanged warm text messages that hinted strongly of our mutual attraction.
From that special day things just grew and grew and each time we met God blessed me with ever greater happiness and joy. We visited garden centres, gardens, climbed hills and explored old towns, mansions and churches. Our first bible study together was enjoyed at a layby near Peterchurch in the Golden Valley of Herefordshire. That sealed our blossoming relationship in a deeply spiritual sense. Yes, we were well on our way to becoming man and wife. Meeting Liz (or Lizzie as I like to call her) has made my life brim-full of joy and I thank Our Lord for smiling upon us. We are now a happy married couple and I am thankful for Christian Connection for helping to make this happen.
Our story
We were married in Worcester in August 2017. Following a wonderful honeymoon near Ingleton in the Yorkshire Dales we settled into our married life at Cwmbran in South Wales. This was quite a daunting prospect for Liz as she had been living at Worcester for 40 years before this. It meant uprooting herself from her friends, her place of work and the warm assurance of familiar surroundings to arrive at a place that was unfamiliar and where she didn't really know anybody. However, Liz loves her man and is a determined lady; she knew that, with God's help, all would be well.
We went to a Church in Cwmbran that Nigel had previously attended and we felt that God wanted us to continue there, but we also visited some other churches to see if we felt comfortable as a newly married couple. We settled at a Baptist church where we felt we could be of service in the community there. Liz helps with the children's holiday club there and has recently been part of a new outreach serving lunches to the Community once a month. Nigel is joining this venture now that he has retired and also hoping to continue with litter picking in the Spring.
Liz has made several friends both at church and at a fibromyalgia meeting she attends and regularly meets up with friends for walks, coffee and lunch. We have many interests in common and from the start of our relationship we have enjoyed walking in the hills around Abergavenny, visiting new places, concerts and theatre. Since our marriage we have also enjoyed trips away in the UK and villa holidays in Cyprus as well as national trust visits and folk festivals. We love spending quality time together and we are busy planning new experiences for us. We have just come back from a wonderful time in Graz, Austria where we watched the European Ice Skating Championships, a first for both of us although we have both wanted to go for years!
We feel that communication is a really important part of any relationship and putting God at the centre is a given. Daily prayers, bible readings and discussions are vital to the success of the marriage and being kind, thoughtful and a good listener are good skills to develop. Not always easy! We have read about the 5 love languages and feel that it is very important to understand your spouse's needs. Just because you like receiving presents and this is important to you doesn't mean that this is what is important for your spouse. Nigel and I both love all the aspects of the love languages and we often buy small surprise gifts or cards. Spending quality time together is not always easy but it is very important to set aside time for each other. Now that Nigel has retired, however, this will be much easier and we have lots of plans in place for enjoying our loving relationship through mutual exploration of God's creation and in serving him as he guides us, for we know that it is He who has brought us together ( with a little help from Christian Connection!)
Get weekly blog articles direct to your email inbox