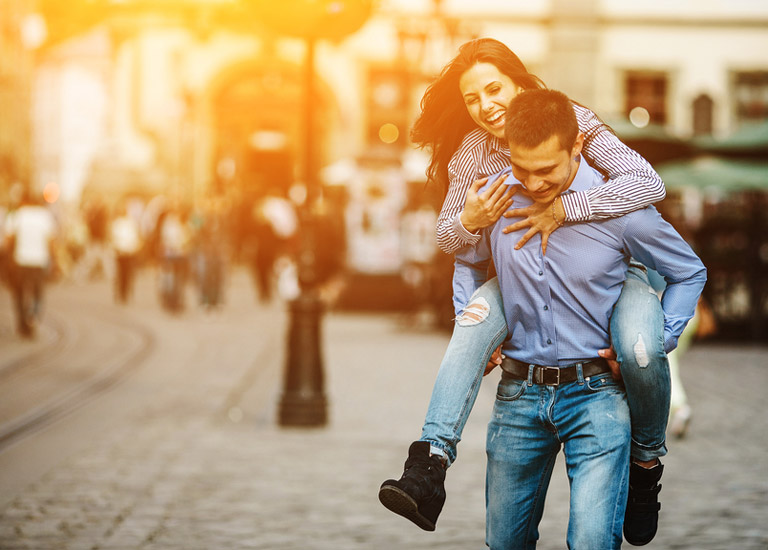 Have we forgotten how to enjoy dating?
'I've never laughed so hard. I'm not saying everything has been easy, but it's going so well'. This is what a friend said to me recently about his new relationship. They've been dating for about six months now, and he seemed almost embarrassed by the fact he was enjoying himself.
It made me think, how often do we remember to celebrate the enjoyment that comes from a good healthy dating relationship? Do we remember that dating is meant to be fun? When we date, and start forming a romantic relationship with one person and increase our commitment to them, we should do it with a smile on our face. This may sound strange, but God actually wants you to enjoy good relationships.
This doesn't mean learning how to navigate tricky situations isn't important. There are lots of good blogs with good advice about dating, and that's great. Lots of us have unfortunately been in bad relationships, been on disastrous dates, and made some regrettable decisions. Some of us have never dated and need some help. I believe that learning how to date well is vital and often overlooked.
However, I also believe that learning to be intentional and building a good romantic relationship, whilst enjoying it, aren't mutually exclusive.
When I deliver talks and give advice about dating, my aim isn't to just get people to avoid bad situations, but to help them find a mutually fulfilling and enjoyable relationship. To find something which is great and exciting.
I remember talking to a couple who said they really enjoyed being together. They shared values and visions for their lives, felt they could work and communicate through the hard times, but thought it should feel harder than it did. They had been told too often that relationships are just endless minefields and should be a chore. This ideal led them to conclude that maybe they shouldn't stay together. I told them that as a culture, as a church, we have failed to teach them about the fullness of relationships.
I understand that first dates can be awkward, and maybe you feel like you've done more than your fair share. I realise that past hurts can get in the way, and the 'marriage question' is important but does bring added pressure. But I want you to enjoy getting to know someone's quirky humour, and having someone you look forward to seeing. Someone who will ask you to go places or try out hobbies you never have thought of doing before. Having someone you can trust and support. Someones who will hold your hand and get excited about your dreams. All of this is meant to be fun. It's meant to be good.
Now at risk of taking away the happy vibes, there is still some advice and guidance I would give on this topic. (Remember, enjoyment and being intentional are not mutually exclusive!) Firstly, enjoyment doesn't mean 'being happy all the time'. Part of relationships is about working through the low points and hard periods. Feeling extremely happy all the time isn't realistic, as an individual or as a couple. Having the pressure from friends, social media and society to act like we never fight, always agree, and are always doing romantic things, can be toxic in the long run. We need some perspective.
Secondly, our relationship needs to fit into the rest of life. If a couple are enjoying it but sacrificing friends, family and/or work, then there's a romantic bubble, which will eventually burst. This enjoyment needs to be part of life so that it isn't short lived.
However, like I said to my friend who's dating and never laughed so much; good! I'm happy for you, I want you to enjoy falling in love. I want you to enjoy sharing good times.
Be intentional, learn to date well, but build something worth having with a smile on your face. When was the last time we celebrated the good aspects of dating?
Get weekly blog articles direct to your email inbox