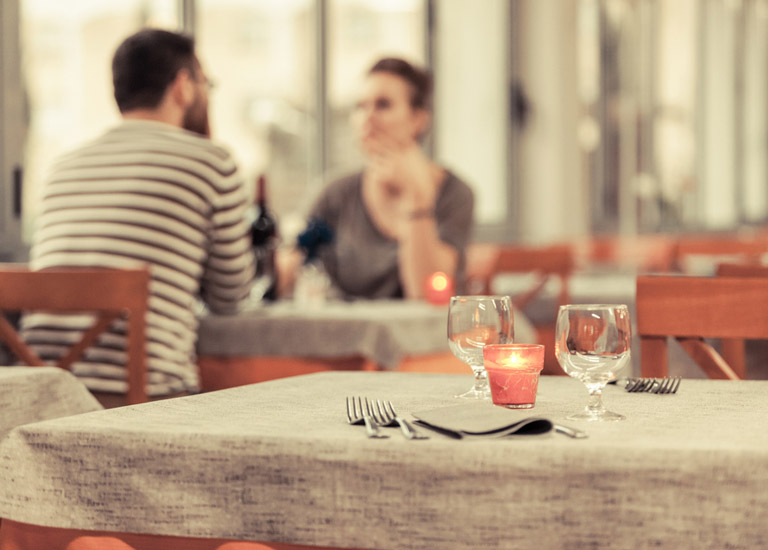 Is your church sabotaging your dating life?
"Ooh, HopefulGirl," said a woman at my church, bustling over after communion. "Who was that good-looking young man I saw you with at the All Souls service? I couldn't help noticing he had his arm around you. He was so dishy. Anything you want to share?"
A service to commemorate the dead wouldn't be my first choice for a date, but that was beside the point. "The tall, dark, handsome one?" I asked. She nodded eagerly. "Yes, he's a bit of a fox, isn't he?" I agreed. "I think it's against the rules though. He's my brother."
Sometimes, you can't even talk to someone of the opposite sex at church without everyone wondering if they should rush out and buy a hat. And that's just one way church life can make it harder to get to know a potential partner. Here's how to beat the obstacles thrown into your dating path by church leaders and fellow congregants…
1. You know you're being watched
A spiritual community where everyone knows and supports each other is a wonderful thing, but it can be our undoing when it comes to dating. A mere whiff of romance starts the tongues wagging – and then the questions begin. For a private person, the invasion can be unbearable. A new relationship, when you're just working out how you feel about each other, can quickly be scorched by the heat of outside interest.
Beat it: If you're dating someone outside your congregation, don't introduce them until you feel secure in the relationship, and ask friends to keep it confidential. If you're at the same church, agree to keep it discreet for as long as you can – but be prepared for people to figure it out pretty quickly!
2. Your leaders are too controlling
"It's against the rules to date anyone within my church unless you okay it with the leaders first," one chap told me. "There were a couple of women I wanted to get to know, but asking permission first made it too heavy and pressured. Now I only date outside my church – or I would if I could actually meet anyone!"
Beat it: If there's a history of church members being hurt by bad dating behaviour, it's understandable that leaders may want to protect people. But if those in authority are meddling inappropriately in the private lives of their congregation, it shows an unhealthy level of control. If you're feeling brave, you could explain that, unless there are particular concerns, single people expect to be treated like adults. Alternatively, it may be time to find a less controlling church.
3. If a romance doesn't work out, you'll still have to see them
You like someone in your church, they like you, and you think you could be good as a couple. But then you take a peak into the future… Eek! What if the relationship crashes and burns? You'll still have to see each other every Sunday. Major mortification potential – maybe it would be safer not to go on that date after all…
Beat it: This is a tricky one, especially in small churches where it's hard to avoid each other. Certainly, you shouldn't date recklessly within your congregation, but when it comes to true love, sometimes you have to take a chance. And if it doesn't work out? Well, if you're grown-up enough to have a relationship, you should be able to be pleasant to each other once you're past that first awkward phase. If the situation gets ugly, one of you may choose to find a new church or go to a different service. Either way, it won't be the end of the world.
4. The sexes are often segregated
Women's groups and men's clubs have their place – but do churches really want to make it even harder for Christians to find a suitable mate? At least give us singles a fighting chance of finding love!
Beat it: Point out to your leaders that if they're going to advocate only marrying fellow believers, we need opportunities to actually get to know some! More mixed-sex groups would be a step in the right direction. Consider organising a church social group yourself (say, a sports team or film club), and find other ways to expand your Christian social circle.
5. You're pressured to get married – fast!
"In church circles, asking a girl for coffee is regarded as virtually a proposal of marriage," said one guy in a Christian chatroom. A woman added: "Three dates in and people start dropping hints about wedding bells. It's enough to put anyone off." There's often pressure in churches (spoken or unspoken) for people to marry quickly – partly to avoid sexual temptation, and partly because Christians tend to idolise marriage and the nuclear family. But this can put so much pressure on a blossoming relationship that it can't develop naturally and at its own pace.
Beat it: Let's all chill out! It's important to take your time and enjoy getting to know a potential partner without feeling like you're signing your life away. If church members drop hints (or ask directly) about long-term plans, explain that you take marriage far too seriously to rush into anything, but you'll be sure to let them know if it's time to buy that new hat!
Does your church unwittingly sabotage your dating life? Share your stories…
Get weekly blog articles direct to your email inbox