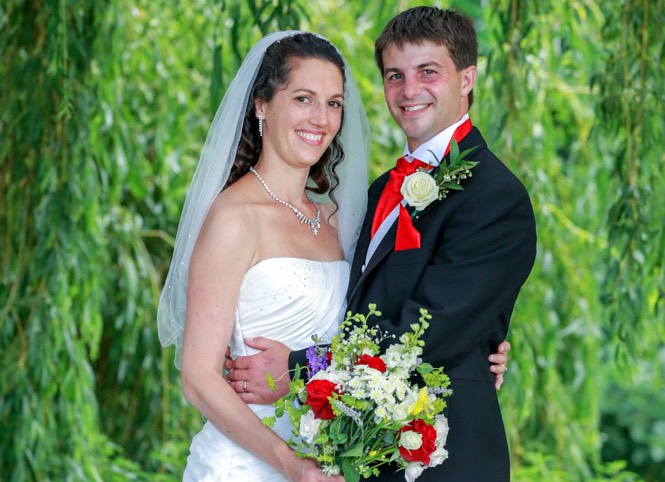 "It didn't happen straight away" – Christian Connection couples talk about missed connections
It's a saying as old as Shakespeare that the path of love doesn't run smooth, and when it comes to online dating that can certainly seem true! No two couples who meet on Christian Connection have the same story. While some clicked straight away, many didn't – and there's lots to learn from their stories. What advice do those who found that meeting the person they went on to marry took time, stops and starts, and even a missed connection or two, have for daters?
Don't worry and don't hurry! For some, taking time was important, with seasons of online dating and taking a break when it felt right. Wendy was a long term Christian Connection member before meeting her husband: "After having a membership on CC on and off for about 7 years and meeting some lovely people (including having a couple of relationships), Tim's profile appeared on CC. He waved at me after I had favourited him based on his profile information."
Matthew met his wife Grace after he re-joined CC: "Because I had a free trial membership in the past there were a few e-mails waiting for me, and the one at the top of the list caught my attention straight away…We chatted over the Internet for a while, started talking over the phone, and soon started meeting up every couple of weeks or so. It wasn't long before we knew that we would be spending the rest of our lives together."
"It took several years of on-off membership and dating for me to meet my husband but it was definitely worth the wait so keep waving and messaging, and be proactive! For us it started with a wave," said Kat, who got married in 2016.
For Joy too, meeting John happened after several years of membership. "I started using Christian Connection around 2005 and continued on and off until 2018 when I met my husband John through your site. John and I had waved at each other in 2017 but for various reasons neither of us took it further. Just before my birthday in 2018 I remembered John's profile, found it again, and with encouragement from a friend subscribed for a month so I could message John."
"I had been on the site on and off for 7 years when finally in October I spotted Andrew who'd just become a member. I emailed him to find out he had been about to email me!" said Elizabeth, who married Andrew after they met on CC.
Sometimes couples tell us they got together after an initial missed connection – or a near miss! "Top tip," says Laura, "Check your mailbox! I ignored my now-husband for 4 months!"
Julia took the initiative when she realised Mark had been in touch before: "We 'waved' on CC in August 2018, but I realised he had already waved at me the year before. So I messaged him saying "Is this going to be our annual wave?" We then started talking, met two weeks later, two weeks following our date we made it official. He moved to Brighton last year to be with me." They're now engaged and planning their wedding."
Marco said, "Iveta was the very first person I waved to, however neither of us were members so Iveta waved back. I later on subscribed, spoke to a number of people and spoke to Iveta. We both knew there was a spark right from our first date."
Jo and Jamie are now married, but it didn't happen straight away: "I met Jamie in September 2012. After a few dates we lost contact and then Jamie got in contact again in March 2013. We started dating and got married in March 2015."
For Stephen, a long trip initially halted his promising conversation with Jen: "We started chatting only a couple of weeks before I was due to go travelling and whilst in Australia with limited internet, things tapered out. After my return and a few months down the line I came back to CC and to my surprise Jen was still on there. Things quickly developed…"
********
Read more couples stories here.
Find out more about Christian Connection and how to join.
Get weekly blog articles direct to your email inbox