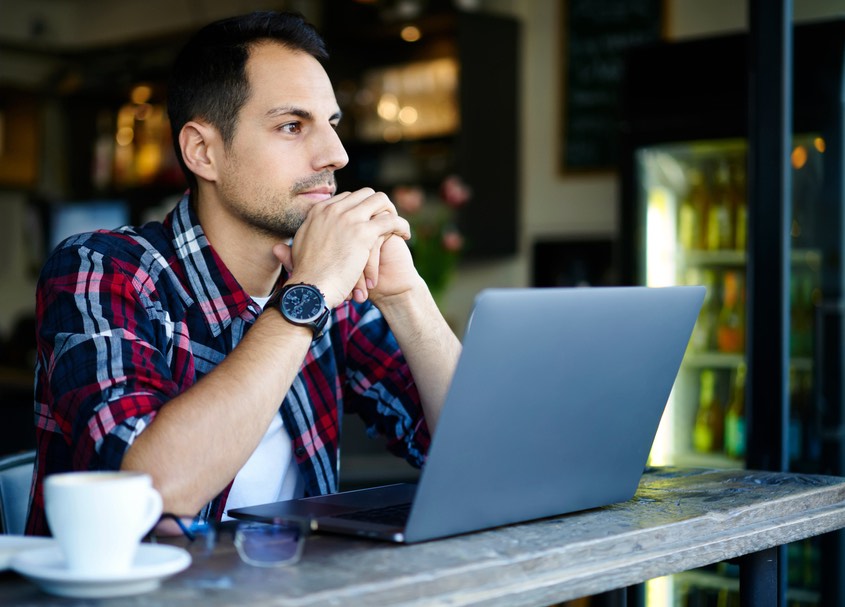 6 helpful things to do if nobody seems interested
As an online dating newbie a few years back I can well remember the mixture of emotions that followed upon posting my first online profile. There was the initial flurry of excitement at reaching out and trying something which I knew had huge potential to help me meet a life-partner. But there was also the uncertainty and hesitancy summed up by the thought, "What if nobody seems interested?" Well, someone was interested and we've now been married for six years! But in the time leading up to this connection, sometimes that nagging feeling would come back to haunt me and so it was important to find ways of dealing with it and getting past it. If you're wondering how to get beyond that feeling and move forward, read on…
Instead of feeling down and stuck if nobody seems interested, here are six things I found helpful in the times when I was dating.
Avoid generalising and catastrophising
One mistake I used to make if I wasn't having much response on the dating front was to fall into the always/never trap: "It will never happen." "Things will always be this way." But a rejection doesn't mean you will "never" find love. And you may be single now but now isn't always. Recognise "always" and "never" for the imposters they are and don't be fooled by them.
Build emotional resilience
Online dating definitely works as a way of meeting exponentially more like-minded people than you can do on your own but it can be a bumpy journey sometimes and it's important not to take every little rejection as some sort of personal judgement. Instead, reframe rejection as a handy ready-made process that filters out people from your life who aren't right for you. It's actually saving you time and emotional energy and something you'll look back on and be grateful for.
Take practical steps
Even if you feel stuck, you aren't. There are practical steps you can take to get the ball rolling again and attract more responses.
Regularly give your profile a refresh. Update your main photo to keep it current – and make it a priority to include photos if you haven't already! You might like to use a ring light which is a great way of enhancing webcam photos by providing soft, natural light on your face instead of a harsh glare.
Instead of plain bald facts in your bio enhance it with little stories and comments about some favourite or new activities you've enjoyed. That way, people get to hear your individual, authentic voice. Posing a fun, quirky question in your bio or 'Anything else?' field can break the conversational ice by giving people something to reply to.
Finally, get a trusted friend to review your profile for approachability and to spot possible typos you might have missed.
Think more broadly
One handy tip is to increase your reach. Think about it this way: when you meet someone you feel drawn to in real life how likely is your first question, "So, do you live within a ten-mile radius of my postcode?" We live in the 21st century with all the communication links that that entails, not a medieval village where it takes two weeks by oxen-cart to reach the next hamlet which has an approximate population of 23 people.
If someone ignores your profile, it's not about you
I know this sounds like an awful old cliché but think about it and you'll realise it's true. It's not about you because your profile isn't actually you. It's a simplified outline of you, a useful first step, but not the multi-dimensional, multi-faceted person you are. Why should you feel rejected by the non-action of someone who doesn't even know you?
God's healing touch of love
When human love seems elusive, ask God for a touch of his healing love. I first experienced this out of the blue after someone I liked had dropped me. My diary records, "Walking back from the supermarket I heard a strange noise above me that made me look up, and I saw a flock of wild, snow-white geese glinting in the sun and flying way, way up, high in the pale blue sky."
Somehow the incident felt oddly personal and direct, like a smile from God, and I went on my way with my sadness a little bit closer to being healed.
The effect was, from then on whenever I felt a bit down and alone, I asked God for a "touch of healing love" and would find myself becoming acutely aware of something around me which was beautiful, comforting, refreshing, or funny.
Maybe it's the case that when we pray this prayer, our senses our opened up to something wonderful that is always there but gets taken for granted. A reminder that God is good and always present. In the emotional ups and downs of dating it's good to know God doesn't leave you on your own but responds through moments that leave you refreshed and comforted, ready to move forward.
So, don't focus on the times when nobody seems interested. Stay alert to these healing moments, absorb them, and let them encourage you to keep going to happy times ahead.
What do you do if nobody seems interested in your online dating profile?
If you enjoyed this and want to take some practical steps you could read 'How can I improve my profile?' and '9 tips for writing a great profile'.
Get weekly blog articles direct to your email inbox